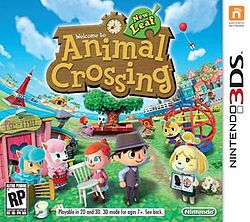 | Region | Release date |
| --- | --- |
| North America | June 9, 2013 |
| UK/Europe | June 14, 2013 |
| Japan | November 8, 2012 |
Animal Crossing : New Leaf is a life simulation video game that was developed by Nintendo and made available for the Nintendo 3DS. The game is currently the latest in the Animal Crossing series, and features a new game mechanic – Town Mayor. Players can be made the town mayor in the game, giving them the ability to gain access to more customization of their town when comparing it to previous generation Animal Crossing titles.
Useful Links :
This review is not available yet, sorry.
88 out of 100
Metacritic MetaScore
Players start the game living in a tent instead of a house. During the gameplay, the player will have the ability to upgrade and expand where his/her character lives in the game. It is possible to modify the character's appearance. Examples of how you can change the character's appearance – new shirt, pants, shoes, hat, accessories, etc. In addition, the developers have added a new feature that allows players to hang furniture on walls.
| Questions | Answers |
| --- | --- |
| Wi-Fi Multiplayer Gameplay | Yes |
| Local Multiplayer Gameplay | Yes |
| Game Available at eShop | Yes |
Animal Crossing : New Leaf Game Trailer :
http://www.youtube.com/watch?v=vG-yMJJ9ie8
Animal Crossing : New Leaf Tips and Tutorials