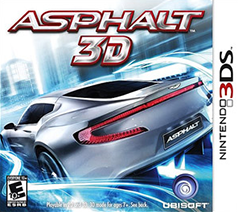 | Region | Release date |
| --- | --- |
| North America | March 27, 2011 |
| UK/Europe | March 25, 2011 |
| Japan | March 10, 2011 |
Asphalt 3D is a racing video game for the Nintendo 3DS that was developed by Gameloft and published by Ubisoft. The game is in the Asphalt series, and is a port of the mobile smartphone and tablet game, Asphalt 6: Adrenaline.
Useful Links :
This review is not available yet, sorry.
43 out of 100
Metacritic MetaScore
Asphalt 3D has 17 exotic tracks and 42 licensed sports cars. All of the 17 tracks in the game are real-life locations, according to its developers. The game features several game modes, and supports multiplayer gameplay with up to 6 players via local wireless. It is also possible to use StreetPass to send and receive game data to find out how well you do when compared to friends that own a copy of the game.
| Questions | Answers |
| --- | --- |
| Wi-Fi Multiplayer Gameplay | No |
| Local Multiplayer Gameplay | Yes |
| Game Available at eShop | No |
Asphalt 3D Gameplay Trailer :