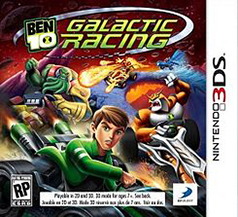 | Region | Release date |
| --- | --- |
| North America | October 18, 2011 |
| UK/Europe | November 25, 2011 |
| Japan | Not available |
Ben 10 Galactic Racing is a racing video game that is in the Ben 10 series. The game was developed for the Nintendo 3DS by Monkey Bar Games, and is available in North America and Europe. Characters in the game have the ability to take advantage of their special abilities to change the outcome of a race.
Example: Ben can change into one of his alien forms during a race to increase his chances of winning.
Useful Links :
This review is not available yet, sorry.
No ratings
Metacritic MetaScore
The game includes 15 playable characters to race as, over 30 different karts to use, and 25 grand prix tracks in 5 different alien homeworlds. In addition, players can drift and perform mid-air stunts that have the ability to charge up character-specific attacks and defenses.
Ben 10 Galactic Racing Galactic Grand Prix Circuits List :
Null Void
Vulpin
Piciss
Kyllmys
Primus
Ben 10 Galactic Racing Character List :
Ben Tennyson – can randomly transform into an alien.
Ultimate Humungousaur – can shoot missiles at other karts to temporarily stop them.
Kevin Levin – can fire a wave of rockets that takes out everything in their path.
Spidermonkey – can create a web wave that can temporarily halt caught karts.
Rath – can extend and drag his claws on the track to cause shake karts up.
Swampfire – can blow out a wave of swamp gas that surrounds every kart it hits.
Heatblast – can surf on a kart to increase speed.
AmpFibian – can cause a power surge.
Vilgax – can create a wave using his eye laser to blast everything in its path.
Big Chill – can blow out a wave of ice vapor to freeze karts.
Ultimate Cannonbolt – can roll and impact other karts that are in its path.
Ultimate Echo Echo – can fire a barrage of sonic rings to blast any kart.
Fasttrack – can create a wave of wind that hits every kart in its path.
Four Arms – can use his arms to produce a song wave that blasts all karts in its path.
Ghostfreak – can use his chest tentacles to fire a purple shockwave to flip over karts.
| Questions | Answers |
| --- | --- |
| Wi-Fi Multiplayer Gameplay | Yes |
| Local Multiplayer Gameplay | Yes |
| Game Available at eShop | No |
Ben 10 Galactic Racing Game Trailer :
Video credit : Game Spot.