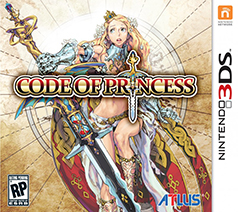 | Region | Release date |
| --- | --- |
| North America | October 9, 2012 |
| UK/Europe | March 28, 2013 |
| Japan | April 19, 2012 |
Code of Princess is an action role-playing game (RPG) for the Nintendo 3DS that was developed by Agatsuma Entertainment and Bones. The game features over 50 playable characters, and several game modes – Single Player mode, Multiplayer mode, Free Play, and Bonus Quests. The game is available as a physical and digital copy in North America and Japan, however, it's only available to download via eShop in Europe.
Useful Links :
This review is not available yet, sorry.
67 out of 100
Metacritic MetaScore
The game can also be considered a hack and slash, beat 'em up, or brawler game. However, it retains its RPG elements. For example, characters receive experience points, money, equipment, etc. It is possible to allocate status points after a character levels up. The multiplayer portion of the game allows up to 4 players to battle it out in Versus Mode, or play several scenarios together.
Game Modes :
Single Player – four characters are playable in the game's story campaign mode. These characters are; Solange, Ali, Zozo, and Allegro. The single player campaign mode allows players to play the single player story campaign of the game.
Free Play – Free Play allows players to choose any campaign scenario to play. You can re-play one of your favorites if you don't want to start over from scratch (eg. playing the story campaign mode from the beginning).
Bonus Quests – additional scenarios. These scenarios are unlocked, and must be beaten with specific requirements.
Multiplayer mode – the game supports both local and Wi-Fi multiplayer gameplay. Players can play several scenarios together, or battle against each other in Versus Mode – supports up to 4 players at a time.
| Questions | Answers |
| --- | --- |
| Wi-Fi Multiplayer Gameplay | Yes |
| Local Multiplayer Gameplay | Yes |
| Game Available at eShop | Yes |
Code of Princess Gameplay Trailer :
Video credit : Nintendo UK Official.