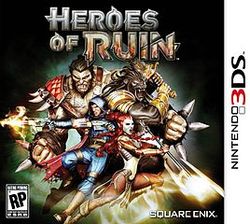 | Region | Release date |
| --- | --- |
| North America | July 17, 2012 |
| UK/Europe | June 15, 2012 |
| Japan | Not available |
Heroes of Ruin is an action role-playing game (RPG) for the Nintendo 3DS that was developed by n-Space and published by Square Enix. During the gamepaly, the player battles various enemies (eg. beasts and fencers) in this dungeon-crawler game. The game supports voice chatting which is sort of rear for a Nintendo 3DS game, ignoring the fact that the system comes with a built-in Mic.
Useful Links :
This review is not available yet, sorry.
69 out of 100
Metacritic MetaScore
Using StreetPass technology, it makes it possible for players to trade items with another player using a feature known as Traders Network. It's also possible to sell in-game items in exchange for points to purchase unobtainable items. With SpotPass technology, Heroes of Ruin gamers can complete daily challenges after a year of release.
| Questions | Answers |
| --- | --- |
| Wi-Fi Multiplayer Gameplay | Yes |
| Local Multiplayer Gameplay | Yes |
| Game Available at eShop | No |
Heroes of Ruin Game Trailer :
http://www.youtube.com/watch?v=zTLdmLtV0GA
Heroes of Ruin Tips and Tutorials
Nothing here yet, sorry.