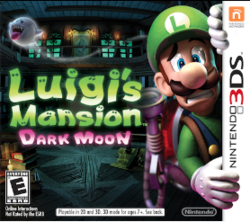 | Region | Release date |
| --- | --- |
| North America | March 24, 2013 |
| UK/Europe | March 28, 2013 |
| Japan | March 20, 2013 |
Luigi's Mansion: Dark Moon, also known as Luigi's Mansion 2 in Europe and Australia, is an action adventure video game for the Nintendo 3DS. The game was developed by Next Level Games, and focuses on a character of the Mario franchise – Luigi.
Useful Links :
This review is not available yet, sorry.
85 out of 100
Metacritic MetaScore
During the gameplay, Luigi is sent to explore abandoned haunted mansions in order to search, capture ghosts, and retrieve Dark Moon fragment. The Poltergust 5000, a specialized vacuum cleaner, makes ghost catching for Luigi fun and easy. The single player content has five different mansions for Luigi to explore. Each mansion is divided into multiple mission based levels – retrieving an object, gaining access to a particular room, or battling and defeating a strong ghost boss.
List of Mansions in Luigi's Mansion: Dark Moon :
Gloomy Manor (Plains)
Haunted Towers (Forest)
Old Clockworks (Desert)
Secret Mine (Snow)
Treacherous Mansion (Ravine)
Multiplayer gameplay :
The game features both local and Wi-Fi multiplayer gameplay. This cooperative multiplayer mode is known as "ScareScraper". In ScareScraper, up to four players control a different colored Luigi to explore each floor of a mansion to complete the specified objective within a certain time limit provided by the game. Floors are randomly generated by the game, and players ascend to the next floor after the objective has been completed.
| Questions | Answers |
| --- | --- |
| Wi-Fi Multiplayer Gameplay | Yes |
| Local Multiplayer Gameplay | Yes |
| Game Available at eShop | Yes |
Luigi's Mansion: Dark Moon Gameplay Trailer :
Video credit : Nintendo.
Luigi's Mansion : Dark Moon Tips and Tutorials