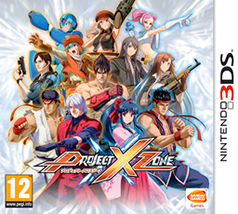 | Region | Release date |
| --- | --- |
| North America | June 25, 2013 |
| UK/Europe | July 5, 2013 |
| Japan | October 11, 2012 |
Project X Zone is a crossover tactical role-playing video game for the Nintendo 3DS that was developed by Banpresto and Monolith Soft. The game features characters from well known Namco Bandai, Capcom and Sega titles, and is the follow up to the Namco x Capcom 2005 video game.
Useful Links :
71 out of 100
Metacritic MetaScore
The game will also feature Japanese voice acting with English sub titles. The battle system used in the game is called the Cross Active Battle System. This battling system allows the character to make combos when pressing (for example) the A button in combination with the Nintendo 3DS Circle Pad. In addition, gameplay elements include Support Attack, Cross Hit, and Critical Hits.
Support Attack

– the player calls in a nearby ally for a support attack.

Cross Hit

 – target freezes during simultaneous attacks from multiple units.

Critical Hits

 – Critical hits that does more damage to the target.
Project X Zone has 15 save game slots, over 200 characters (including both allies and enemies), and its North American and European versions will retain most of the content from the Japanese version of the game.
| Questions | Answers |
| --- | --- |
| Wi-Fi Multiplayer Gameplay | No |
| Local Multiplayer Gameplay | No |
| Game Available at eShop | Yes |
Project X Zone Character Spotlight Trailer :
Video credit : Capcom Unity Videos.