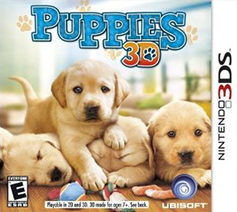 | Region | Release date |
| --- | --- |
| North America | November 8, 2011 |
| UK/Europe | November 11, 2011 |
| Japan | N/a |
Puppies 3D is a simulation video game for puppy lovers that own a Nintendo 3DS. The game was developed by Ubisoft, and released for the 3DS on November 8 in North America, and November 11 in Europe. During the gameplay, players can bond and interact with a family of cute puppies in a 3D lifelike world.
Useful Links :
This review is not available yet, sorry.
? out of 100
Metacritic MetaScore
It is possible to choose the breed of the puppies, play with them, care for them, exercise or train with them, and even talk to them. All of this can be done in the game's realistic and interactive three-dimensional environment. The game might even get you interested in adopting a real-life puppy.
The game features :
The ability to adopt and care for 12 popular breeds of dogs.
The ability to interact and train your virtual dogs as if they were real pets.
The ability to explore villages and discover people with other dogs.
| Questions | Answers |
| --- | --- |
| Wi-Fi Multiplayer Gameplay | No |
| Local Multiplayer Gameplay | No |
| Game Available at eShop | No |