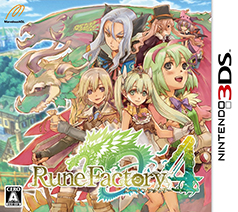 | Region | Release date |
| --- | --- |
| North America | October 1, 2013 |
| UK/Europe | Cancelled |
| Japan | July 19, 2012 |
Rune Factory 4 is a simulation/role-playing video game for the Nintendo 3DS that was developed by Neverland Co. and published by Marvelous AQL. The game was originally released in Japan, and will soon be available in North America. Unfortunately, there is no word when/if the game will be available in Europe.
Useful Links :
This review is not available yet, sorry.
78 out of 100
Metacritic MetaScore
Rune Factory 4 is the 6th game in the Rune Factory series and the first to be released for the Nintendo 3DS. The game has two protagonists – a male (Lest), and a female (Frey). Players are offered the choice of becoming a temporary prince or a princess at the start of the game. Players have the ability to grow crops, form relationships with others (not limited to humans), and take control of a sword. Gameplay features that were not introduced in previous Rune Factory games include speaking with dragons, and having long-term relationships before marriage.
| Questions | Answers |
| --- | --- |
| Wi-Fi Multiplayer Gameplay | No |
| Local Multiplayer Gameplay | No |
| Game Available at eShop | Yes |
Rune Factory 4 Game Trailer :
Video credit : IGN.