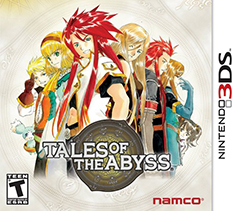 | Region | Release date |
| --- | --- |
| North America | February 14, 2012 |
| UK/Europe | November 25, 2011 |
| Japan | June 30, 2011 |
Tales of the Abyss is a roleplaying game (RPG) that was developed by Namco Tales Studio and is available for the Nintendo 3DS gaming handheld. The game originally made its way to the PlayStation 2 gaming console back in 2005, and was ported to the Nintendo 3DS in 2011 (Japan). Tales of the Abyss is the eighth mothership title in the Tales series.
Useful Links :
This review is not available yet, sorry.
75 out of 100
Metacritic MetaScore
The game uses a real-time Flex Range Linear Motion Battle System (FR-LMBS). In addition, it features many skills and spells that you can take advantage of to defeat enemies. As for the game's controls, it's very similar to any Tales game. Characters have the ability to learn 'Ad Skills' which can be optionally equipped to help during battles. Capacity Cores also give characters a stat bonus every time the character levels up.
As you progress deeper into the game, you will discover new characters that will help you along in battle. These characters can be leveled up and edited (eg. skills, equipped items, etc) to your liking. The game gives the player the ability to experiment with attacks so that they can discover combos that quickly eliminates the enemy – or quickens the process.
| Questions | Answers |
| --- | --- |
| Wi-Fi Multiplayer Gameplay | No |
| Local Multiplayer Gameplay | No |
| Game Available at eShop | No |
Tales of the Abyss Trailer :
http://www.youtube.com/watch?v=Zd_h2usEWnE
Tales of the Abyss Tips and Tutorials