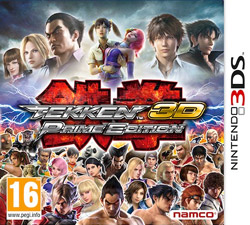 | Region | Release date |
| --- | --- |
| North America | February 14, 2012 |
| UK/Europe | February 17, 2012 |
| Japan | February 16, 2012 |
Tekken 3D: Prime Edition is a fighting game for the Nintendo 3DS gaming console that was developed by Namco Bandai and Arika. The game is in the Tekken franchise and is the 2nd official game to make its way to the Nintendo platform. There are 41 Tekken characters to choose from, different stages to battle in, and the Tekken: Blood Vengeance 3D movie comes pre-installed with every copy of the game.
Useful Links :
64 out of 100
Metacritic MetaScore
The Tekken: Blood Vengeance 3D movie is not just some cinematic 5 minute trailer. No! It's over an hour long if I remember correctly and it takes advantage of the handheld console's 3D screen. While the single player contents of the game and its Blood Vengeance movie can be viewed in 3D on the Nintendo 3DS, its multi-player gameplay does not take advantage of the system's 3D capabilities.
What can you do in Tekken 3D: Prime Edition? :
Special Survival – defeat as many opponents as possible with one heath bar.

Versus Battle – fight players locally or online. 

Quick Battle – single player combat against the CPU.
Practice – practice your moves and perfect combos.
Tekken Cards – view and trade over 700 unlocked Tekken cards via StreetPass.
List of Playable Characters in Tekken 3D: Prime Edition :
Alisa Bosconovitch
Anna Williams
Armor King
Asuka Kazama
Baek Doo San
Bruce Irvin
Bryan Fury
Christie Monteiro
Craig Marduk
Devil Jin
Eddy Gordo
Leo
Lili
Feng Wei
Ganryu
Heihachi Mishima
Hwoarang
Jack-6
Jin Kazama
Julia Chang
Kazuya Mishima
King
Kuma II
Lars Alexandersson
Lee Chaolan
Lei Wulong
Ling Xiaoyu
Marshall Law
Miguel Caballero Rojo
Mokujin
Nina Williams
Panda
Paul Phoenix
Raven
Bob
Roger Jr.
Sergei Dragunov
Steve Fox
Wang Jinrei
Yoshimitsu
Zafina
| Questions | Answers |
| --- | --- |
| Wi-Fi Multiplayer Gameplay | Yes |
| Local Multiplayer Gameplay | Yes |
| Game Available at eShop | No |
Tekken 3D: Prime Edition Trailer :
http://www.youtube.com/watch?v=fljUZJLJaxI
Tekken 3D: Prime Edition Tips and Tutorials
Nothing here yet, sorry.