NUMBERS! NUMBERS EVERYWHERE!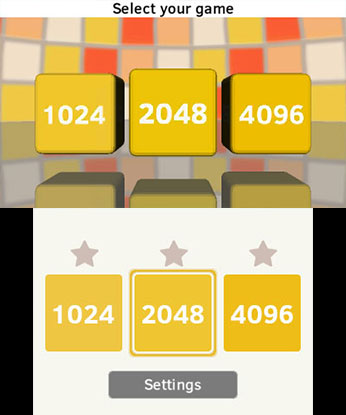 GAMEPLAY:
'2048' is actually a sliding puzzle where the rules are simple, however, the challenge is pretty big. In the game, you need to move all the tiles in one direction, doubling the tiles of the same value. For example, 2+2=4, 4+4=8, 8+8=16 and it continues like that.
The only way to win the game is by reaching a 2048 tile. In addition, there are two more modes where the goal is 1024 and 4096. You can consider the three values to be easy, normal and hard difficulties.
Every time you move the tiles, a new one will be created. The game will only create 2 and 4 titles, therefore you need to be fast until all the spaces are filled getting a game over. The game also features twenty (20) achievements, adding more replay value to the formula.
It's possible to play the game with a stylus or with the Circle Pad and it works great. For the menu, I recommend to use the stylus because it's faster.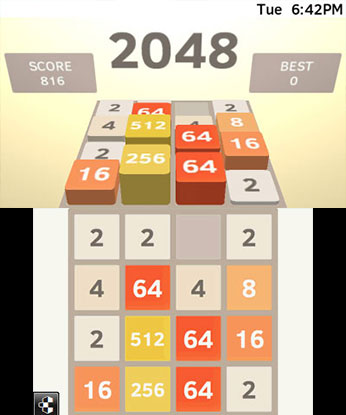 GRAPHICS AND SOUND:
The game looks very good in the 3DS, having a simple but nice looking design. The 3D effect is excellent, however, I recommend playing using the lower screen.
The soundtrack of the game is relaxing, presenting various melodies that will play during the gameplay and makes a good companion to the game. The sound effects are well done as well and the quality sound is good for a budget price.
Last but not least, you can modify the playlist of the game, choosing what songs you want to play or what songs you want to skip. You can also set the volume of the sound and music.
PRESENTATION:
The presentation of the game is well done: The game has a lot of options, achievements and statistics, a lot of replay value, an excellent explanation about how the game works and a nice looking menu.
The only bad thing I found about the game is the lack of content in the manual. Still, very impressive for a budget game.
CONCLUSION:
2048 makes an excellent example of a good budget game in the Nintendo eShop. It's very addicting and the presentation is excellent. Being a game for two dollars ($1.99), I couldn't find a reason not to recommend this game to you, unless you have a great smartphone with the game installed already.