I know what you're thinking – "It's impossible to get free Nintendo 3DS, Wii U and Switch eShop prepaid cards". That is technically true, however, we here at NintenPedia.com purchase these eShop cards and give them away every once in a while to our readers (codes sent digitally). Think of it as email delivery, but just over private message at our forum or to an email address if it's an event for the main site.
Are you wondering if you're eligible to get yourself one of these eShop cards? The answer is simple – keep reading our fresh new content that we publish. We normally host a contest every once in a while. It can be a random draw, it can be a Wi-Fi online tournament for a selected 3DS, Wii U or Switch game. Heck, you can even throw a couple of ideas at us..
Nintendo Switch eShop cards are the same as 3DS/Wii U eShop cards.
List of contests :
Contests aren't the only way to get 3DS/WiiU/Switch eShop credit from NintenPedia. Members of the forum can earn Play Coins by posting in the forum and these Play Coins can be exchanged for eShop codes. For more details, please see this web page.
Proof: List of members who received eShop codes or 3DS game codes from our forum.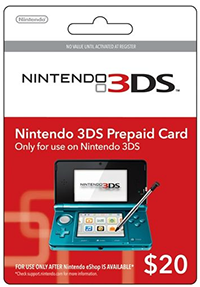 ( Photo of the Nintendo eShop prepaid $20 card )
Follow us on Twitter (@3DSPedia) to get notified when we're hosting a contest. Stay tuned to find out and keep reading the content published at this website.