Now that E3 is out of the way and mostly everyone knows that there is a bucket-load of new 3DS games coming to the console, you can check up on your backlog and see which games you have missed to purchase while you wait. Amazon is kicking things off with a large list of Nintendo 3DS games on sale for around the $30 US price range. Normally, 3DS games are sold at $40 US, so it's too good of a deal to ignore.
List of Nintendo 3DS games that are on sale :
Etrian Odyssey IV: Legends of the Titan ($29.96)

Kid Icarus: Uprising ($31.59)
Mario Kart 7 ($29.98)
New Super Mario Bros. 2 ($29.98)
Paper Mario: Sticker Star ($29.99)
Pokémon Mystery Dungeon: Gates to Infinity ($29.99)
Professor Layton and The Miracle Mask ($25.99)
Shin Megami Tensei: Devil Summoner: Soul Hackers ($29.69)
Style Savvy: Trendsetters ($16.96)
Super Mario 3D Land ($29.99)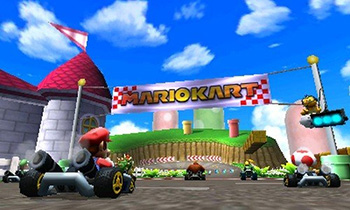 ( Mario Kart 7 gameplay footage )
Ten games received about a 25% price slash. All products are sold by Amazon (not any third-party seller who sells overpriced games to make a good profit), and gift-wrapping is available. You can also check out the company's free shipping details to see if you're eligible.
Find the 3DS game by searching Amazon for its name – make sure that you're viewing the correct web page, and not a product that was listed on the website by a third-party seller (you can tell with the prices – and there's a notice saying, "products sold by Amazon").