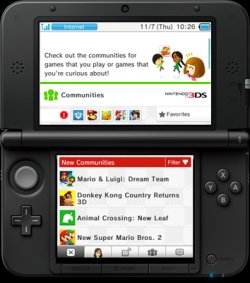 The highly anticipated 3DS update is already here for the Nintendo 3DS, 3DS XL and 2DS.
If you wanted to know why, here are the reasons:
– Support for Nintendo Network IDs
– Support for Miiverse
– Software update notifications
– No more limits for system transfers
– Better start-up method for the Nintendo 3DS Camera from the Home Menu
Like in every update, "further improvements to overall system stability and other minor adjustments have been made to enhance the user experience" means that Nintendo is trying to block R4 cards and increase protection against piracy.
Support for Nintendo Network IDs:
This mayor update allow users to share their eShop balance between a Nintendo Wii U and a Nintendo 3DS / 3DS XL / 2DS.
Support for Nintendo Miiverse:
The famous social community service from Nintendo can be accessed not only with your Nintendo Wii U but also with your Nintendo 3DS / 3DS XL / 2DS. In addition, it can also be used from a computer with an Internet connection.
If you want to use Miiverse from your PC, this is the link you must use to enter (you need to register an account first): https://miiverse.nintendo.net/
Software Update Notifications:
That means you will know when you have to update and honestly, that saves you a lot of time.
No more limits on system transfers:
A big problem with this was the big quantities of special editions Nintendo has offered. It isn't a problem now thanks to this.
What are you waiting for? Your console is ready for this update.