Loki is a level 46 demon of the tyrant race in Shin Megami Tensei IV: Apocalypse and you will be forced to battle him after slaying the demons from the Pursue Hunter Hunters quest. Make sure you have sufficient MP before defeating the last Dormarth demon as he appears right after.
This guide helps you find out his strengths and his weaknesses.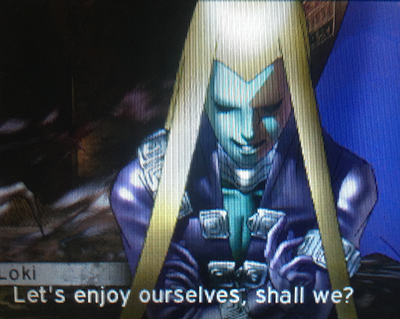 How To Beat Loki in Shin Megami Tensei IV: Apocalypse
His skills are :
Agidyne
Bufudyne
Ziodyne
Zandyne
He is weak against light skills although they are not needed as long as you can stun him or heal yourself regularly. He blocks ice skills and has resistance against force and dark skills.
Note: Watch out for Zandyne as it can blow your demons away from the battlefield.
As long as you continue to revive or heal any injured demons from your party, you will eventually take him down. It may be important to change your armor so that Loki does not hit you with effectively with his fire, ice, force or electric skills.