Today, Nintendo officially revealed that a new color will be added to the North America's Nintendo 3DS XL collection. That's correct. A black color Nintendo 3DS XL will be available to purchase in North America, and it will only cost the consumer $200 US.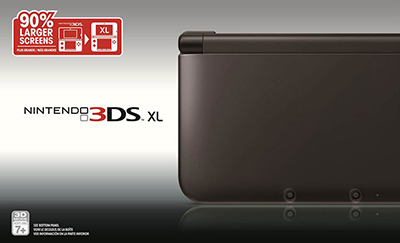 ( Photo of the black Nintendo 3DS XL box )
The black Nintendo 3DS XL will be available on August 11th, 2013. That's the same release date for Nintendo's upcoming Mario and Luigi: Dream Team video game, therefore, fans can pick both up at a store or only the game if they already own a Nintendo 3DS.
The Nintendo 3DS XL is larger than the regular 3DS. The 3DS XL also comes with a larger memory card for additional storage for downloaded games, applications, and other data. For more information, find out the differences between the Nintendo 3DS and the 3DS XL.
Source : Nintendo.