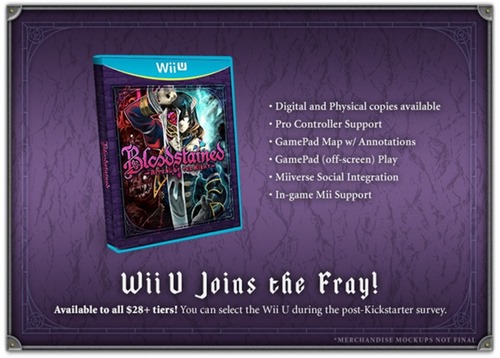 What started out as a Kickstarter campaign with a goal set at $500,000 has turned into a Kickstarter campaign with a total donation amount of over 3 million dollars. And with still many stretch goals to offer, Bloodstained: Ritual of the Night is going strong. But not only that; it finally reached the 3 million mark, which means we're getting a Wii U version! Here are some of the features that will be included in the Wii U version:
Pro Controller Support
The map on GamePad while playing on TV
The ability to draw on/annotate the map
Play exclusively on GamePad (off-screen play)
Miiverse social integration
Featuring your Mii in-game
Additionally, should the game pass the 3.5 million mark (and it isn't far away at the time of writing this), it will be ported to the PS Vita as well. If you are at all interested in this game, be sure to check out the Kickstarter campaign here, where you can find a video and some screenshots of the game.