How to get Rotom in Pokemon X/Y? – If you didn't know, Rotom can be caught in Pokemon X and Pokemon Y. Go to the Lost Hotel and look for it on Tuesdays. However, if you need a perfect IV Rotom that was hatched in Kalos, please sign up for an account at the 3DS Pedia Forum and private message a member with the username "Marc".
Since that's out of the way, it's time to teach you how to change the form of Rotom in Pokemon X/Y. It's really simple, actually.
How To Change Rotom Forms in Pokemon X/Y
Go to Lumiose City.
Use a Taxi to go to Professor Sycamore's Lab.
Enter the lab and use an elevator to go to the 2nd floor.
Find the boxes at the bottom-right corner of the screen and press the A button.
Choose the Rotom and the form that you want to change it to.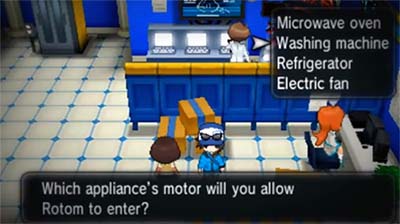 Rotom has five forms to change into :
Fan Rotom (electric and flying)
Frost Rotom (electric and ice)
Heat Rotom (electric and fire)
Mow Rotom (electric and grass)
Wash Rotom (electric and water)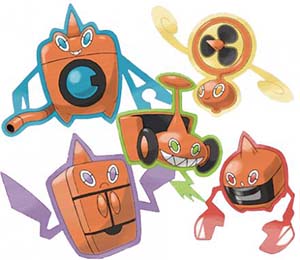 Changing the form of Rotom gives you access to a special move that other Rotom forms are unable to learn, however, it loses that move if it changes its form into something else. See the list of special moves below :
Fan Rotom learns Signal Beam (bug-type attack with 75 base power)
Frost Rotom learns Blizzard (ice-type attack with a 110 base power)
Heat Rotom learns Overheat (fire-type attack with a 130 base power)
Mow Rotom learns Leaf Storm (grass-type attack with a 130 base power)
Wash Rotom learns Hydro Pump (water-type attack with a 110 base power)