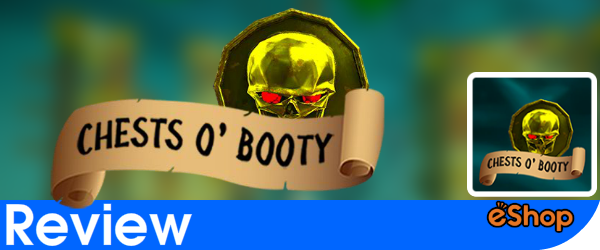 The first impression Chest O' Booty gives is being a typical match three game, and meanwhile it's a similar genre, it actually aims to twist the genre giving a new way to play the popular puzzle genre. Your mission is to arrange your stolen coins in order to boost bonuses, but how does it work?
With the time you will be obtaining coins you need to connect with different values: one (1), five (5), ten (10), fifty (50) and one hundred (100). Instead of matching three pieces like normal games of the genre, there's a rule that must be followed:
Five (1) coins turn in one (5) coin.
Two (5) coins turn in one (10) coin.
Five (10) coins turn in one (50) coin.
Two (50) coins turn in one (100) coin.
Five (100) coins turn in one (gem) coin.
You need to have at least two gem coins in order to acquire your bonus.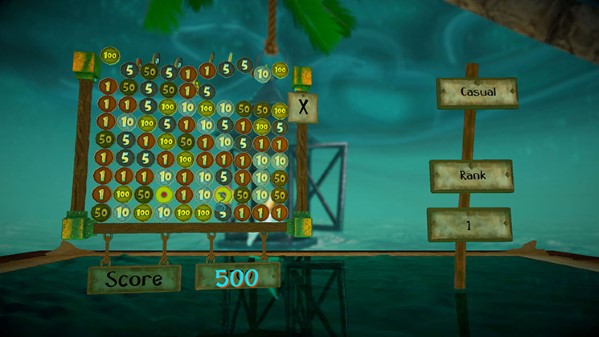 In order to keep the rules simple, you can throw the coins you don't want (that means, throw all the low value coins and keep the higher value ones in order to get bonuses faster), making low value coins worthless.. literally.
This title offers two modes for the single player which are casual mode and timed mode. Casual is an infinite mode that only ends when you want to and timed is a mode where you have 45 seconds to get as many points as possible, both featuring its own local leadboard. There is a third mode being a local multiplayer mode, called versus, but when I played I encountered a bug with the Gamepad making it unplayable (all the controls play as the same player). The developers have already fixed this, therefore I will be certain to update this once the updated is available.
Both the soundtrack and the graphics of the title are nicely done, where the title includes good quality sound files, however, a few textures could look better. Still, well done considering it's a budget title. Sadly, the game only uses one screen at a time, therefore if you play with your TV, you will only see a black screen on the Gamepad (better that way for the battery in my opinion).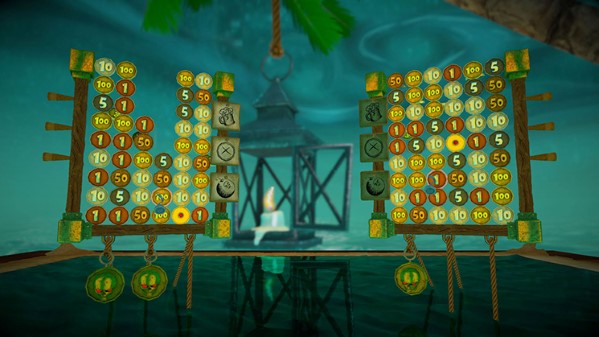 The presentation is simple but includes the Off-TV gameplay, it's compatible with a good variety of controllers (the Wii U Gamepad, the Wii U Pro Controller, the Wii Remote and the Wii Remote Plus), the manual is short but explains what is needed, the local leadboards offers you a reason to play again and a few options have been included.
Conclusion:
This budget title appeared from nowhere but it's still a nice entry to the eShop offering a little twist to the already saturated 'match three' genre (at least for the 3DS), and if you like casual games, this will be worth your money. I would have liked to try the Versus mode, however, a bug makes it unplayable but a patch will be released aiming to fix that.