Yet another puzzle you will eventually encounter in Persona Q. This time you will have to walk through certain rooms on the 3rd floor of the Evil Spirit Club in a particular order to unlock the door to progress further in Persona Q. This tutorial shows you the correct order to walk through the rooms to unlock the door.
If you're not already aware of it, the stairs icon on the map screenshot below is where you start when you enter the room. Find your way to the green X mark that I edited in the screenshot. Once you're at the green X mark, move your character in the direction of the red line followed by the blue line and a cutscene should play once you're done.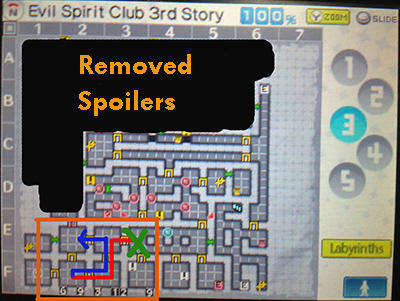 Do you still need help?
If you're still having problems (either it be on this floor or further in the game), you should create an account at our 3DS forum and post a thread in the SMT/Persona Q section of the forum. Someone should eventually answer your question(s).