One of the first story quests you'll get in Atelier Ryza 2: Lost Legends & the Secret Fairy is the Medical Support quest where you'll have to make Fish Oil for Bos. You won't this crafting recipe the usual way from your Skill Tree, so you must transform a recipe you've already acquired. This guide will show you how to craft Fish Oil in the game.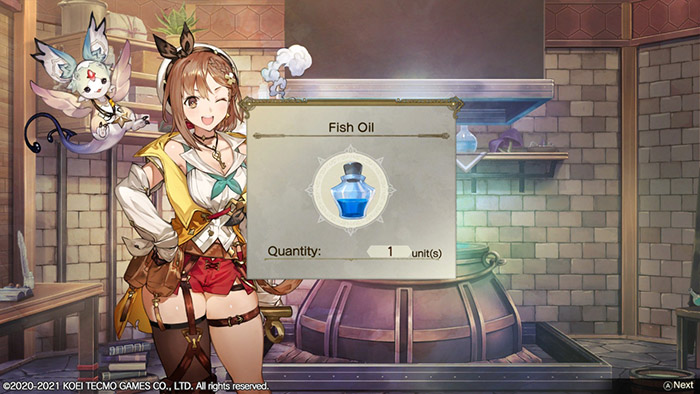 How To Craft Fish Oil in Atelier Ryza 2: Lost Legends & the Secret Fairy
Skill Tree
Open your Skill Tree and scroll up. You'll see Grass Beans as the first option to unlock when you look up. Use SP to acquire this recipe.
Craft Grass Beans
Press A by your pot to open the Synthesis menu in your house. Look for the Grass Beans recipe and you'll see a locked Fish Oil recipe. You must aim to morph the Grass Beans recipe into the Fish Oil recipe by filling out all of the options in its path.
You will need the following options from the Skill Tree:
Recipe Morph.
Quantiy +3: quantity of materials added during synthesis +1 (each).
Suppliment recipe (optional, but useful to fill out 3 green slots).
The materials to make the Grass Beans aren't too difficult to gather. The majority can be obtained in the early areas of the game. You can also increase your gathering and staff ranks to get better quality ingredients. Flowers and Sardine are two of the most essential ingredients for making Grass Beans. The aim isn't to make Grass Beans, but to morph it into Fish Oil, so good quality ingredients and skilled alchemy is required.
Once you've crafted the Fish Oil, take it to Bos at the Weisheit Academy District.