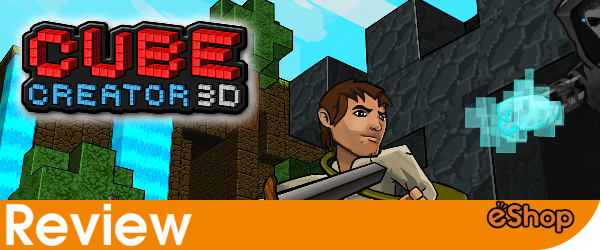 The fact that Minecraft never comes to Nintendo might disappoint sandbox fans. That is why many people and children are craving for those Minecraft-inspired games on their Nintendo platforms – since Sony has the original Minecraft. We already saw one of the first Minecraft-inspired games on Nintendo – excluding  Harvestmoon's recent title – and Cube Creator 3D took another appearance last month. Would the game be a good time waster for your appeal? Let's take a look.
Though some of you might have little knowledge of such block-building realm, it is explicitly expressed on the title: Big John Games provides a sandbox genre where you may choose between surviving yourself from monsters or building your own realm. Cube Creator 3D's world is composed of cubes of different textures and colors, explored from a first-person view. The Survival Mode offered here is classic; you are thrown into a world, a habitat where animals like cows and pigs live, though there are also dangers awaiting, from orcs, mummies, undeads that will keep you on your toes for awhile.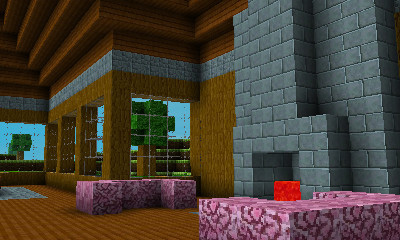 A food chain indeed, and being the one who gains some control of such chain is a good deal. But you are not a monopolist here, and Cube Creator 3D is something that will keep you living alongside the nature. You may want to hunt animals, mining diamonds, or building your own fortress to keep yourself safe from monsters. All schemes are started by breaking cubes – the primary premise of the game. Later you can craft tools to break different cubes easier and collect materials… There are not a significant amount of items available to craft, though.
Just like any first-person perspective action games, the controls in Cube Creator 3D will take time to learn, but fine nonetheless. Items are selected on the touch screen, and though you will be a bit busy switching the held item, it is really okay; well, you are playing from a handheld with no physical keyboard, so you will get used to it. The camera and moving scheme is fine, and though it is not a 'default' one for a first-person game, you can change it in the Setting menu easily. The game also supports Circle Pad Pro and New Nintendo 3DS C-stick for a smoother movement.
While a previous Minecraft-inspired 3DS title urges you to walk like, forever, Cube Creator 3D places you in a smaller realm generated from four different environments: Forest, Desert, Mountain, and Snow. It took just a couple of minutes to walk accross the map, which disappointed me enough. Fortunately it was later possible for me to travel to another environment, when I was finally able to create a dimension portal. A fair compensation, but still makes you feel living in a small land.
A Creative Mode leaves you with no enemies, and it is technically better since it has eight save slots, unlike the Survival Mode that has only one. Those available slots let you to build different kind of worlds rooted from your creativity. You can fly to see your creation from a bird's perspective by holding the Jump button, and the infinite amounts of cubes will be your endless resource. Big John Games has been holding several contests for Cube Creator 3D, and you can see why the Creative Mode is people's favorite, from younger children to the elders.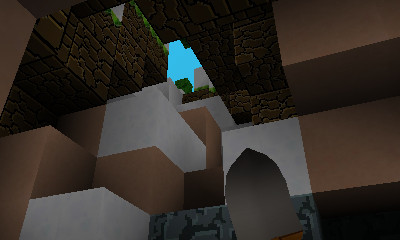 Though the Survival Mode feels less suspense, you can rely on the Creative Mode to channel your artsy desire. Nonetheless, Cube Creator 3D is a good time waster, and though it provides less depth compared to the original game, it is overall a fair roll for your Nintendo 3DS. I bet Big John Games will add patches in the future, especially for online multiplayer. Cube Creator 3D costs $7.99 in the Nintendo eShop now, but you may try the free demo first.