In dating Sims and otome games, it's not unusual for the player character to be romanced by someone—or multiple someones—in power. After all, these sorts of games provide at least a small level of escapism, and who wouldn't be flattered at the idea of a god or goddess being interested in them? Having a princess or duke on our arms couldn't be that bad, and catching the eye of an immortal being like a vampire surely comes with a sense of pride, but what if we were the ones in power? In 2021's Cupid Parasite, the player takes on the role of Cupid, who has come down to earth to prove humans don't need the power of the gods to build happy and long-lasting relationships.
STORY
In Cupid Parasite, players take the role of the main character (Lynette Mirror is the default name, but players are allowed to customize it). She works for Cupid Corporation, the best matchmaking organization in Los York, and maybe even the world, however, Lynette's secret of actually being the goddess Cupid is put to the test when her boss asks her to find wives for the Parasite 5, an infamous group of men who have worn down just about every advisor in the company.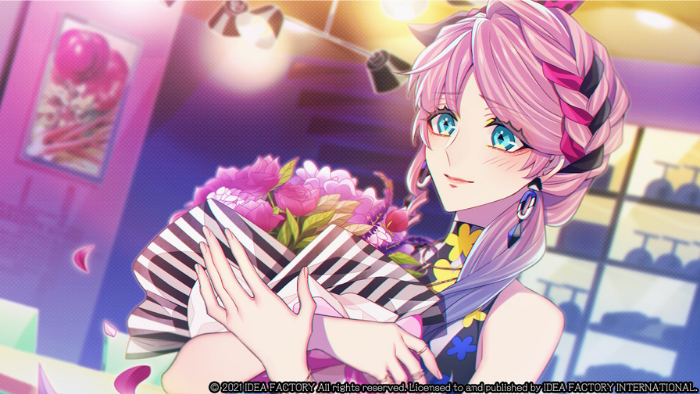 The five consist of Gill, Lynette's former roommate who is secretly in love with her and won't take anyone else; Ryuki, a fashion designer who values physical appearance over everything; Raul, a famous movie star obsessed with mythology who is only here to do research for a film; Allan, a man who is only interested in bedding women who are already taken; and the mysterious Mr. S. whose identity is so secret he can't even show up to matchmaking sessions in person and instead sends his assistant.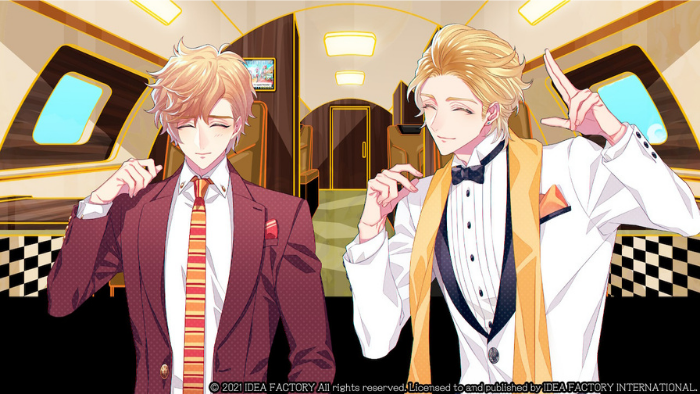 The five men are the most prominent characters of the game besides Lynette, and at the beginning they truly earn their group nickname. It's easy to be completely put off by most, if not all, of the boys upon introduction based purely on their attitudes toward marriage and their behavior. For many players, it might take a few hours into the common route before developing an inkling of which guy to romance first, however, Cupid Parasite does an extremely satisfying job giving each love interest a great character arc. Not only that, but Lynette also gets some wonderful development that really ties into the individual route plots. Most dating sims and otome games intentionally leave the point of view character fairly blank to allow the player to project onto them, but Lynette is a fully fleshed out character with goals, dreams and flaws, despite being a literal goddess.
REPLAY VALUE
Cupid Parasite has a lot of replayability built into it. There are five main routes, and a secret sixth route unlocks after successfully romancing the entire core cast. Each guy has a good ending, but there are also slightly less good endings (as opposed to bad endings, since nothing really goes wrong in these, they just aren't the ideal scenario). The game also facilitates subsequent replays by segmenting the game into chapters, which allows players to easily skip from scene to scene depending on what's needed to get on the right path. The common route and the individual routes are also quite long too, meaning by the time an ending is reached, players won't feel like they just visited the core scenario when it's time to start over on a new route.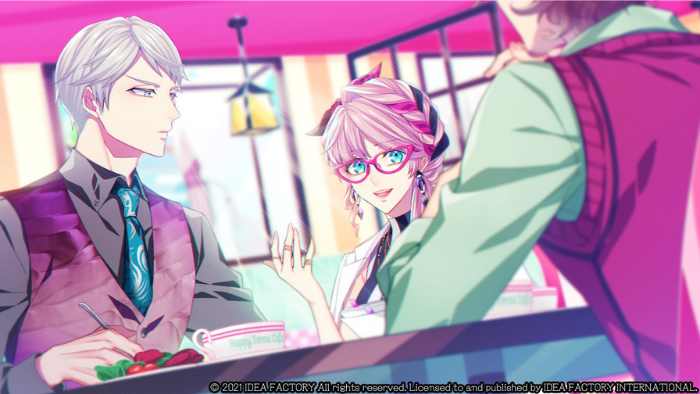 GAMEPLAY
Since Cupid Parasite is essentially a visual novel, there is very little gameplay included in the story. Over the course of the story players can amass hearts for their chosen boy. This will help determine not only which love interest they are paired up with during the common route, but also whether they get the best ending with their man or simply just a good ending. To accrue hearts, all players have to do is select between dialogue options when prompted. Choosing one the guy likes will net hearts in their favor, while picking the less favorable option doesn't have any negative consequences. While there are a few more choices throughout the game that will impact things, this mechanic stays the same. While the common route can become a bit boring, the heart system works well for the story the game is trying to tell.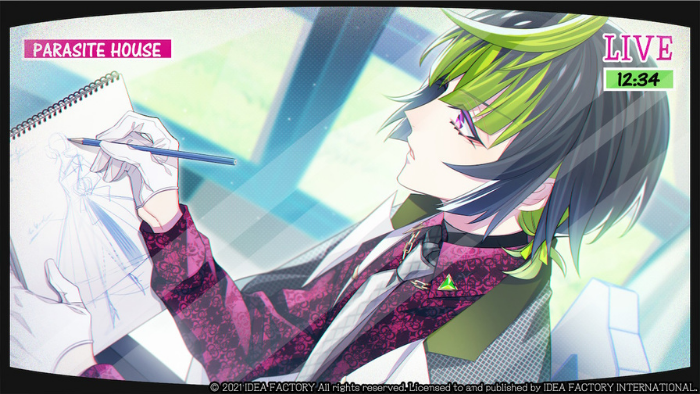 Controls
Even though there is essentially no gameplay, Cupid Parasite still has some interesting control options. The touch screen works, which is a nice option for going through dialogue, however, finding other controls like skipping dialogue or even the pause menu can be incredibly difficult. To find the pause button you have to hit X on your Nintendo Switch, a departure from the traditional plus sign for most games on the system. This is never explained, and since all the buttons do various things, it can be easy to accidentally skip some dialogue while trying to discover what to do. The game also doesn't have a log option or a way to easily backtrack the script, making this even more tedious. While not game breaking by any means, it might leave players a little frustrated.
ART
The art in Cupid Parasite can be a little all over the place. When it comes to character sprites and CGs, the work is flawless. Some of the more romantically charged CGs are quite breathtaking, the character designs are unique without being outlandish, and in general the game is lovely to look at. Where things get a little messy, however, is the User Interface design.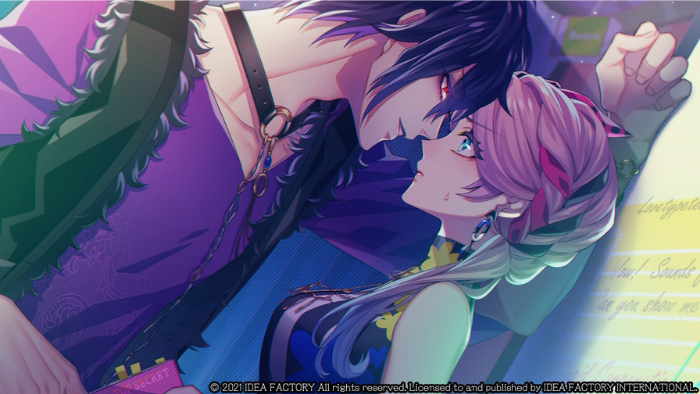 Although the dialogue boxes are clean, the opening screens and the menu feel a bit like the cover of a teen girl magazine from the early 2000s—or maybe more accurately, if a teen girl from the 2000s made a vision board using only material from those kinds of magazines. This makes the style come across as messy, and the player's eyes are unable to tell where they need to go which is incredibly unhelpful for a menu.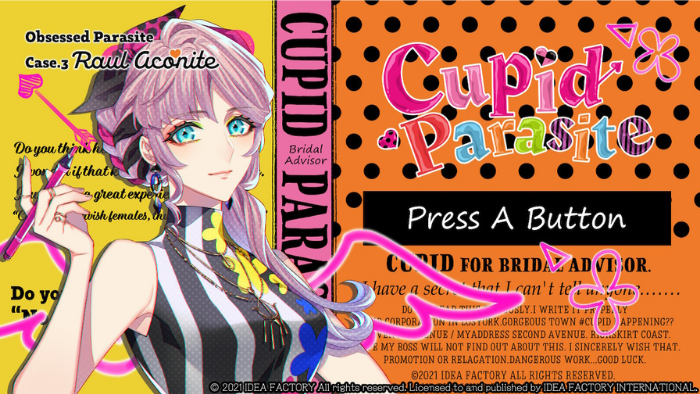 MUSIC
Cupid Parasite's music is actually quite pleasant. Most of the background songs invoke a quiet modern pop style, making it feel a bit like starring in a romantic comedy film. While the music can be a bit generic, it keeps it from being too distracting from the scene at hand. The songs with lyrics are also in English, a surprise for a game with Japanese voice acting. Still, the music is easily one of the least remarkable things about the game.
VOICE ACTING
Speaking of voice acting, the performers do a great job despite the language barrier. Everyone except Lynette is voiced, and the Parasite 5 in particular are quite good. They each manage to have their unique style and tone that doesn't trample over one another's performances. It's a nice contrast from Allan's low tones to Gill's enthusiastic energy. Another standout performance is Claris, Lynette's coworker, friend and roommate who is beautiful, fashionable and shows no mercy in the romantic world. Her voice actor makes her strong and authoritative without making her sound cold, an impressive balancing act.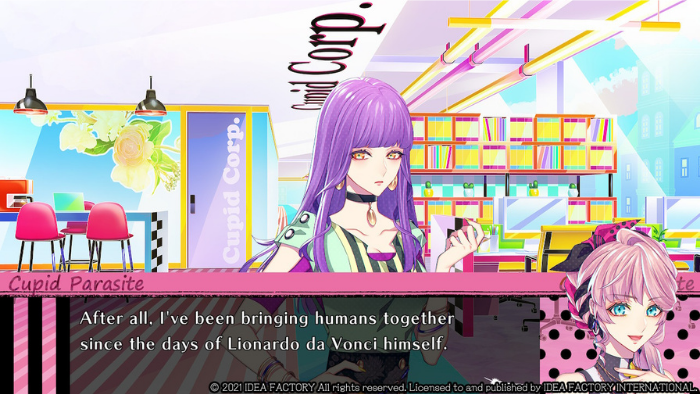 CONCLUSION
Cupid Parasite is a great example of what an otome game or dating sim can be. It features strong characters, a unique plot, and a female protagonist who isn't just a blank slate. The game delivers compelling romances while also managing to break stereotypes about love and companionship. It also provides a fresh take on Greco-Roman mythology which will delight newcomers and surprise anyone who was obsessed with it in their formative years. While the controls and the art can be a bit of a drawback, Cupid Parasite is well worth the price, particularly for otome fans who are looking for a meaty game with strong characters where the plot is actually important and not simply an afterthought.
Final rating: 9/10.