What's better than a good old fashion game of darts? Well, a game of old fashion darts on your Nintendo 3DS is what's better. I've seen many darts games on different platforms but the recently released Darts Up 3D by EnjoyUp games is unique due to its control scheme.

Controls
Let me dive right into the control scheme, you'd expect it to be a game with touch based controls, however, Darts Up 3D uses a different method to throw your darts. It uses the 3DS' gyroscope to line up your shot and a flick of the Circle-pad to shoot the dart. It's fairly simple, you move your 3DS in any direction to line up the shot (There's no marker to help you which ramps up the difficulty a bit), then keep your hand steady while pulling back the circle-pad and when you release it the dart will be thrown. It takes a bit of practice to master the targeting system and find the sweet spot for your shots.
Visually, the game looks pretty good, it's not Crysis 3 so don't expect life-like visuals but you won't be disappointed with what the game has to offer. The music is surprisingly relaxing as well. At least to me.
Gameplay
There are 3 game modes including famous 501, Arcade and Classic mode. Best of all, the game supports up to 4 players on a single 3DS. So, you can just pass around your 3DS and enjoy the game of darts with your friends. If that doesn't suit you then you can also share and play the game with your friends who own a 3DS via Download Play.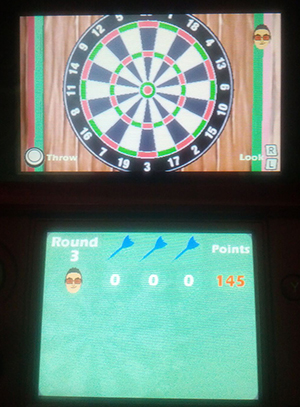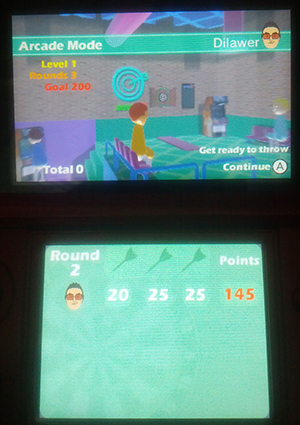 Verdict: Darts Up 3D, Thumbs Up!
The only complain I have about Darts Up 3D is the fact that it doesn't support online multiplayer. If the game offered online Multiplayer then it would literally be the #1 darts game for 3DS.
In my final words, I'd recommend Darts Up 3D to everyone who isn't Anti-Darts. This is a great game and the only realistic darts game I've found on 3DS. It's available for download on Nintendo eShop.
You can also enter our giveaway for a chance to Win Darts Up 3D for free, here.