Shin Megami Tensei: Devil Summoner: Soul Hackers is now on sale at the North American Nintendo eShop. Its price tag at the NA eShop is now $29.99 US (price might be different depending on your location in North America). That's a $10 price slash if you live in the United States. Hurry and grab the game because this sale ends on July 14th, 2013.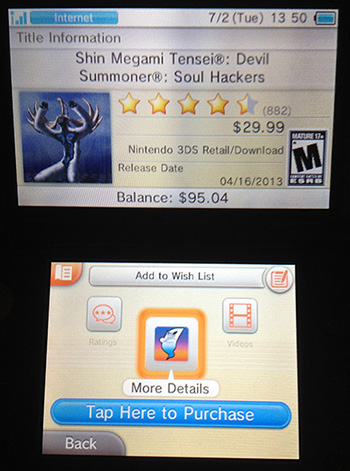 ( Photo: My 3DS at the game's eShop page, showing its new limited time only price tag )
SMT: Devil Summoner: Soul Hackers is a first-person dungeon-crawling RPG for the Nintendo 3DS. IGN rated the game a 7.8 out of 10, and its Metacritic MetaScore is 76% the last time I checked. Just so you know, the game only has single player gameplay.
I believe this game is on sale due to the upcoming release of Shin Megami Tensei IV. It's always a good idea to get in a couple of last minute sales when another video game from the series (in this case, the Megami Tensei video game series) will be released soon.