Released last year in North America, Devil Summoner: Soul Hackers offered a revamped version of the adventure introduced exclusively in Japan, on Saturn in 1997 and PlayStation in 1999. This year however, the west will also get to enjoy this classic thanks to the goodwill of NIS America that teamed up with Atlus to bring the game in Europe as early as next fall. This is quite the good news for fans of the Shin Megami Tensei franchise, and adds up to the recent announcement of the release date of Shin Megami Tensei IV.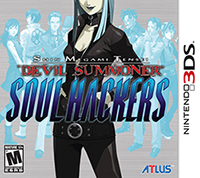 ( Shin Megami Tensei Devil Summoner: Soul Hackers )
For those new to the series, this episode will take us through a standalone story designed around the main concept of the SMT role-playing franchise, that is alliances with demons to explore dungeons. This remake will also benefit from the technology of the Nintendo 3DS, offering a graphical relief effect as well as dubbed dialogues and animated battles that were not present in the original version.