Atlus plans to roll out both free and paid downloadable content for Devil Survivor 2 Record Breaker, the company revealed today. Not all DLC will be available on day 1 of the game's release, though. It appears that they will be released on a schedule as detailed below :
Beginner's Brawl (free) – May 5th, 2015.
Lost Demon Rescue (free) – May 12th, 2015.
Macca Makes an Escape (paid) – May 5th, 2015.
All Skills Must Go! (paid) – May 12th, 2015.
Let the Demons Grow (paid) – May 12th, 2015.
Addonetarium (paid) – May 19th, 2015.
Free DLC Details :
Beginner's Brawl — This is the one Free Battle that won't scale with level, so make sure to tackle it early on. The enemies are a little on the weak side, but can still pack a punch if you're not careful. Defeating them will earn you some quick Macca (demonic currency) to blow at the Demon Auction and get your team started off right.

Lost Demon Rescue — A persuadable demon is caught in the middle of two hordes. If you can protect the demon and survive the onslaught, the demon will join your party! Use it to bolster your ranks or keep it for fusion fodder. (Not to mention that some of the demons you're up against have useful skills to crack!)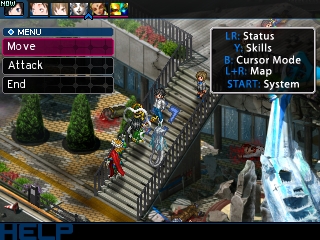 Paid DLC Details :
Once you have beaten what the free DLC has to offer, you can move on to the paid DLC. Each will be priced at an affordable 99 cents in the US eShop, or CA$1.49 in the Canada eShop.
Macca Makes an Escape — This battle poses a chase scenario. Demons are fleeing with their pockets stuffed with Macca, and it will be up to the player to run them down and beat the payout out of them. The demons are carrying three times the usual amount of Macca, and even though they're fleeing, they'll put up a good fight if you catch them.

All Skills Must Go! — Scattered around the battlefield are memory sticks loaded with powerful skills for your party. But the demons around have their eyes on them too, and will try and abscond with the memory sticks. This is one situation when you're going to want to make sure to use non-combat skills that slow down enemies and/or speed up your party, because nothing is as infuriating as watching a Moh Shuvuu fly off with a powerful healing skill.

Let the Demons Grow — This is an old-fashioned free-for-all battle. These demons are loaded with extra experience, so systematically pick them off to reap EXP rewards and level your entire party.

Addonetarium — This battle is for higher-level characters, but is hugely beneficial towards the middle of the game when you can start implementing add-ons to your fusion. Basically, the add-ons give the fused demon a specific bonus, and can mean the difference between an average demon and all-powerful killing machine.