Etrian Odyssey Untold: The Millennium Girl will be released on October 1st, 2013, in North America. The game will cost $39.99 US and will be available as both a physical and digital copy. There is currently no word about a release date for European region 3DS owners.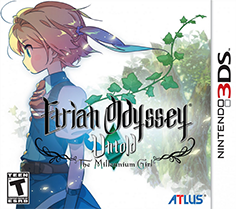 ( Photo: Etrian Odyssey Untold: The Millennium Girl 3DS Box Art )
The game will offer two modes – Story mode and Classic mode. Story mode has five pre-made characters each with their own personalities and dialogue, and it takes place in a side of Etria that is not seen in the first game.
Gamers who played previous Etrian Odyssey games would know about the game's Classic mode. Users can create their own party just like with previous Etrian Odyssey games and enjoy the similar experiences.
The game has an anime opening by Madhouse, enhanced graphics for the Nintendo 3DS, and offers new dungeon layouts, floors, and enemies. Players must advance through dungeons to discover the truth about the Yggdrasil Tree and Frederica.