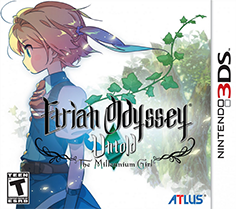 | Region | Release date |
| --- | --- |
| North America | October 1, 2013 |
| UK/Europe | May 2, 2014 |
| Japan | June 27, 2013 |
Etrian Odyssey Untold: The Millennium Girl is a dungeon crawler role playing video game for the Nintendo 3DS that was developed by Atlus. The game is a part of the Etrian Odyssey series and is the update of the original Etrian Odyssey.
Useful Links :
This review is not available yet, sorry.
80 out of 100
Metacritic MetaScore
The updated 3DS game offers voice acting, enhanced graphics, an anime opening by Madhouse, cool cutscenes, new dungeon layouts and floors, and of course, new enemies. Players will be able to access two modes – Story mode and Classic mode. Story mode has five pre-made characters that's good for newbies and experienced Etrian Odyssey gamers alike, while Classic mode allows players to create their own party and enjoy the Etrian Odyssey experience known from its previous gen games.
| Questions | Answers |
| --- | --- |
| Wi-Fi Multiplayer Gameplay | No |
| Local Multiplayer Gameplay | No |
| Game Available at eShop | Yes |
Etrian Odyssey Untold: The Millennium Girl Trailer :