Some things to remember about the first game are that it was shorter, has DLC, and that it costs over $130 dollars… The sequel, for $40, contains more songs than the the prequel, plus DLC, and it's really short.
Featuring over 200 songs without counting DLC, this is a large package to enjoy. A good work from Square-Enix, right? Well, kind of. There will be a lot of DLC anyway, but it isn't too expensive.
Here is a list of the confirmed characters and songs for the game.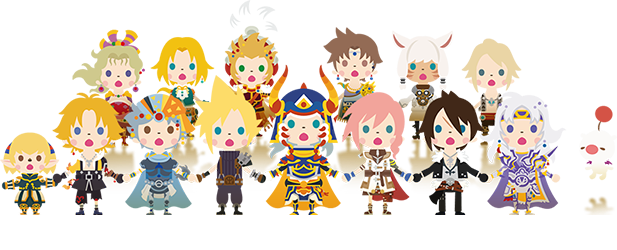 CONFIRMED CHARACTERS: 
* New character.
** Duplicated character on the list.
Final Fantasy
Warrior of Light
Princess Sarah
Final Fantasy II
Final Fantasy III
Final Fantasy IV
Cecil Harvey
Rydia
Kain Highwind
Edge Geraldine*
Final Fantasy V
Bartz Klauser
Faris Scherwiz
Lenna Charlotte Tycoon*
Galuf Halm Baldesion*
Final Fantasy VI
Terra Branford
Locke Cole
Celes Chere
Edgar Roni Figaro*
Final Fantasy VII
Cloud Strife
Aerith Gainsborough
Sephiroth
Tifa Lockhart**
Barret Wallace*
Final Fantasy VIII
Squall Leonhart
Seifer Almasy
Rinoa Heartilly
Laguna Loire*
Final Fantasy IX
Zidane Tribal
Vivi Ornitier
Garnet Til Alexandros XVII
Eiko Carol*
Final Fantasy X
Tidus
Yuna**
Auron
Jecht*
Final Fantasy XI
Shantotto
Prishe
Lilisette*
Aphmau*
Final Fantasy XII
Vaan
Ashelia B'nargin Dalmasca
Balthier
Fran*
Final Fantasy XIII
Lightning**
Snow Villiers
Hope Estheim
Oerba Dia Vanille*
Final Fantasy XIV: A Realm Reborn
Final Fantasy: Mystic Quest
Final Fantasy Tactics
Ramza Beoulve
Agrias Oaks*
Final Fantasy X-2
Final Fantasy Crystal Chronicles
Final Fantasy VII: Advent Children
Crisis Core -Final Fantasy VII-
Dissidia Final Fantasy
Final Fantasy Type-0
Rem Tokimiya*
Machina Kunagiri*
Ace*
Final Fantasy XIII-2
Serah Farron
Noel Kreiss*
Lightning Returns: Final Fantasy XIII
  CONFIRMED MUSIC:
————————————Field Music————————————
Final Fantasy
"Main Theme"
"Cornelia Castle"
"Opening Theme"
"Matoya's Cave"
"Mt.Gulg"
"Airship"
"Sunken Shrine"
Final Fantasy II
"Main Theme"
"Town"
"Dungeon"
"Tower of the Magi"
"Finale"
Final Fantasy III
"Crystal Cave"
"Eternal Wind"
"The Boundless Ocean"
"Elia, the Maiden of Water"
"Doga and Unne's Mansion"
"Crystal Tower"
Final Fantasy IV
"The Red Wings"
"Theme of Love"
"Main Theme of Final Fantasy IV"
"Troian Beauty"
"Tower of Zot"
"Airship"
"Within the Giant"
Final Fantasy V
"Four Hearts"
"Harvest"
"Home, Sweet Home"
"Mambo de Chocobo"
"Airship"
"A New World"
"In Search of Light"
Final Fantasy VI
"Terra's Theme"
"Edgar & Sabin's Theme"
"Celes's Theme"
"The Airship Blackjack"
"Searching for Friends"
"Kefka's Tower"
Final Fantasy VII
"Main Theme of Final Fantasy VII"
"Golden Saucer"
"Cosmo Canyon"
"Highwind Takes to the Skies"
"Judgement Day"
Final Fantasy VIII
"Blue Fields"
"Find Your Way"
"Waltz for the Moon"*
"Fisherman's Horizon"
"The Castle"
"Ride On"
"Ending Theme"
Final Fantasy IX
"A Place to Call Home"
"Over the Hill"
"Behind the Door"*
"Not Alone"
"Dark City Treno"
"Aboard the Hilda Garde"
"Melodies of Life ~ Final Fantasy"
Final Fantasy X
"To Zanarkand"
"Spira Unplugged"
"Movement in Green"
"Launch"
"Servants of the Mountain"
"A Fleeting Dream"
"Mi'ihen Highroad"
"SUTEKI DA NE (Isn't It Wonderful?)"
Final Fantasy XI
"Vana'diel March"
"Gustaberg"
"Selbina"'
"Voyager"
"Ronfaure"
"Sarutabaruta"
"Heavens Tower"
"The Sanctuary of Zi'Tah"
Final Fantasy XII
"The Royal City of Rabanastre/Town Ward Upper Stratum"
"Giza Plains"
"Naivety"
"The Dalmasca Estersand"
"The Mosphoran Highwaste"
"Theme of the Empire"
Final Fantasy XIII
"The Gapra Whitewood"
"March of the Dreadnoughts"
"The Sunleth Waterscape"
"The Archylte Steppe"
"Dust to Dust"
Final Fantasy XIV: A Realm Reborn
"To the Sun"
"On Westerly Winds"
"Serenity"
"Engage"
Final Fantasy Tactics
Final Fantasy X-2
"The Farplane Abyss"
"We're the Gullwings!"
Final Fantasy Crystal Chronicles
"Across the Divide"
"Sound of the Wind"
Final Fantasy VII: Advent Children
Crisis Core -Final Fantasy VII-
"Timely Ambush"
"A Flower Blooming in the Slums (from FFVII "Aerith's Theme")"
Dissidia Final Fantasy
Dissidia 012 Final Fantasy
Final Fantasy Type-0
"Standing Strong on the Ground"*
"Soar"
"Tempus Finis"
Final Fantasy XIII-2
"Historia Crux"
"Groovy Chocobo"
"Eclipse"
"Noel's Theme – Last Journey -"
Lightning Returns: Final Fantasy XIII
"The Glittering City of Yusnaan"
"The Dead Dunes"
————————————Battle Music————————————
Final Fantasy
"Battle"
"Mini-Boss Battle"
"Last Battle"
Final Fantasy II
"Battle Scene 1"
"Rebel Army Theme"
"Battle Scene 2"
Final Fantasy III
"Battle 1"
"Battle 2"
"This is the Last Battle"
Final Fantasy IV
"Battle 1"
"Battle 2"
"Battle With the Four Fiends"
"The Final Battle"
Final Fantasy V
"Main Theme of Final Fantasy V"
"Battle 1"
"Clash on the Big Bridge"
"The Decisive Battle"
"The Final Battle"
Final Fantasy VI
"Battle"
"The Decisive Battle"
"Battle to the Death"
"Dancing Mad"
Final Fantasy VII
"Let the Battles Begin!"
"Fight On!"
"J-E-N-O-V-A"
"Aerith's Theme"
"One-Winged Angel"
Final Fantasy VIII
"The Man with the Machine Gun"
"Don't Be Afraid"
"Force Your Way"
"Maybe I'm a Lion"
"The Extreme"
Final Fantasy IX
"Battle 1"
"Battle 2"
"Swords of Fury"
"Festival of the Hunt"
"Something to Protect"
"Darkness of Eternity"
"The Final Battle"
Final Fantasy X
"Normal Battle"
"Challenge"
"Fight With Seymour"
"Otherworld"
"A Contest of Aeons"
"Final Battle"
Final Fantasy XI
"Battle Theme"
"Awakening"
"FFXI Opening Theme"*
"Fighters of the Crystal"
"Shinryu"
Final Fantasy XII
"Final Fantasy ~FFXII Version~"
"Boss Battle"
"Battle with an Esper"
"Life and Death"
"The Battle for Freedom"
"Ending Movie"
Final Fantasy XIII
"Blinded By Light"
"Saber's Edge"
"Defiers of Fate"*
"Desperate Struggle"
"Fighting Fate"
Final Fantasy XIV: A Realm Reborn
"The Land Breathes"
"Fallen Angel"
"Torn from the Heavens"
"Under the Weight"
Final Fantasy Mystic Quest
Final Fantasy Tactics
"Trisection"
"Antipyretic"
"Ultima, the Nice Body"
Final Fantasy X-2
"YRP, Fight No. 1"
"Let Me Blow You a Kiss"
"Their Resting Place"
Final Fantasy Crystal Chronicles
"Monster Dance~Rondo"
"Unite, Descent"
Final Fantasy Crystal Chronicles: The Crystal Bearers
"This is the End for you!"
Final Fantasy VII: Advent Children
"J-E-N-O-V-A (Advent Children Version)"
"Those Who Fight (Piano Version)"
"Divinity II"
Crisis Core -Final Fantasy VII-
"Encounter"
"The Price of Freedom"
"SOLDIER Battle"
Final Fantasy Fables: Chocobo's Dungeon
"Dungeon Hero X's Theme"
"Raffaello Battle"
"Guardian of Darkness 2"
Dissidia Final Fantasy
"The Troops' Advance"
"DISSIDIA -ending-"
"DISSIDIA FINAL FANTASY (FINAL TRAILER)"
"The Decisive Battle -arrange-" from FINAL FANTASY VI"
Dissidia 012 Final Fantasy
"Cantata Mortis"
"DISSIDIA 012[duodecim] FINAL FANTASY (FINAL TRAILER)"
Final Fantasy Type-0
"War: Warrior Worth a Thousand"
"War: The White Weapon"
"Vermilion Fire"
Final Fantasy XIII-2
"The Last Hunter"
"Etro's Champion"
"Heart of Chaos"
Lightning Returns: Final Fantasy XIII
"Crimson Blitz"
"Chaos"
"Lightning Returns"
————————————Event Music————————————
Final Fantasy XIV: A Realm Reborn
Final Fantasy Tactics
Final Fantasy X-2
Final Fantasy Crystal Chronicles
Final Fantasy VII: Advent Children
"Advent: One-Winged Angel"
Crisis Core -Final Fantasy VII-
Dissidia 012 Final Fantasy
Final Fantasy Type-0
Final Fantasy XIII-2
Lightning Returns: Final Fantasy XIII