Keith will give you a task titled "Free Topic" in Atelier Ayesha: The Alchemist of Dusk. You will have to use alchemy to make a magic tool that fits his requirements. This guide will help you complete the request.
Free Topic task details:
"Synthesize and submit an item that satisfies Keith."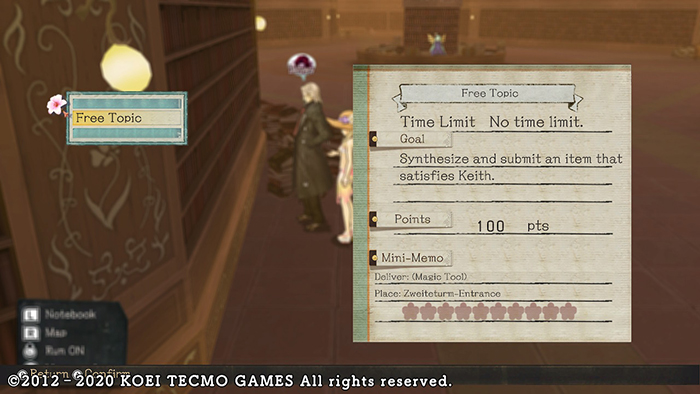 What item to make and how to make it?
Two of the easiest magic tools to make are the Power Totem and Training Dye. They can both be found under the Support category of the Synthesis menu. Both are easy to make because the ingredients are easy to obtain from gathering and drops.
The Power Totem might be the more difficult one because it requires an earth stone, which you may have run out of. The Training Dye needs simple ingredients in categories such as water, oil, an elixir, and cloth.
Where to submit the magic tool item?
Use the world map to travel to the Zweiteturm-Entrance. There, you will find Keith as soon as you enter. Talk to him and deliver the item to complete the task.
You will be rewarded with 100 points to use toward enhancing your character.