There is good news for anyone that lives in the United Kingdom who wants to purchase a Nintendo 3DS XL. GAME, a well known retailer in the UK, is now offering £40 off its Nintendo 3DS XL for online purchases. To take advantage of the discount, the customer must apply the coupon code at checkout when ordering the item online.
Voucher Code: 3DSXLSAVE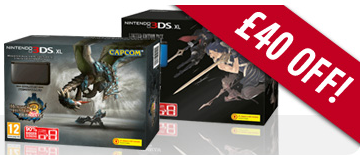 ( GAME £40 off coupon/voucher code for £40 off Nintendo 3DS XL )
This coupon only applies a discount to the Nintendo 3DS XL console for online purchases. Don't go to one of the company's stores and try your luck – it will not work. Just so you know, time is ticking because this coupon does have an expiry date, and it's June 30, 2013.
This coupon works with the following products from GAME :
Nintendo 3DS XL (red, blue, or silver)

Nintendo 3DS XL White with Super Mario 3D Land

Nintendo 3DS XL White with Mario Kart 7
Nintendo 3DS XL Black with Monster Hunter 3 Ultimate
Limited Edition Fire Emblem Nintendo 3DS XL Blue with Fire Emblem: Awakening
GAME sells the Nintendo 3DS XL for £179.99, while the bundles cost £199.99 each. After the £40 discount, the 3DS XL (not a bundle edition) will be priced even cheaper than the ones that are sold within the United States. Around $20 US cheaper to be exact.