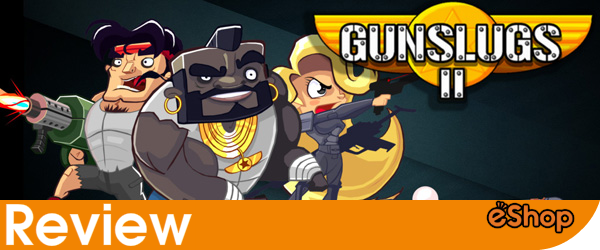 While in real life most people avoid fire and explosions, entertainment perceives such elements as the fuse of adrenaline and excitement. It is true that we love jolts and surprises in games, but is that enough to keep ourselves engaged?
Picking Gunslugs 2, a retro-style game inspired from 80's action-hero movies and other entertainment with similar genre developed by Orangepixel and published by Engine Software, I think that such gaming engagement lies on the game design more than the military gimmicks.
Orangepixel tries to project their dream of favorite genre into a game, mixing both movies and games with similar, military theme – hence the name Gunslugs 2. We all know where the name comes from, don't we?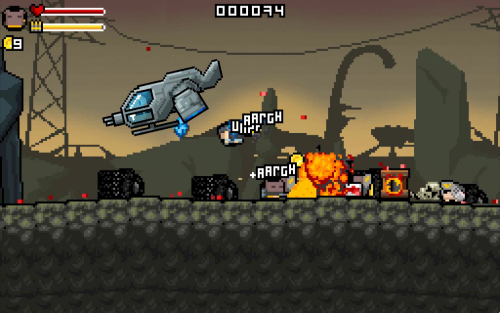 The premise is quite similar to the aforementioned game, though Orangepixel executed the concept in a different fashion. Our gunslug squad is engaging in another war with Black Duck Army, building a tower to send a signal to the outer space, contacting aliens to attack the Earth. Your mission is described in two objectives: defeat enemies and destroy towers.
While the monologue is quite funny to read, the level design of Gunslugs 2 is too poor to begin with. It was first designed and published for mobile devices, then arrived in the Nintendo 3DS system, but the level design does not change when you progress through stages. Every stage has three levels with a tower to destroy, mini-boss to tackle, shop to buy enhancements, and finally, a boss to defeat.
At first, it looks cool to blast towers, but when you have to repeat such action every time, it does not look cool anymore. The environment is plain, with no obstacle to challenge you. No new mechanism is introduced in Gunslugs 2, except that you have HP instead of permadeath classics, so roaming into enemy's area is considered okay (though I am usually dead after the rocket-propellers).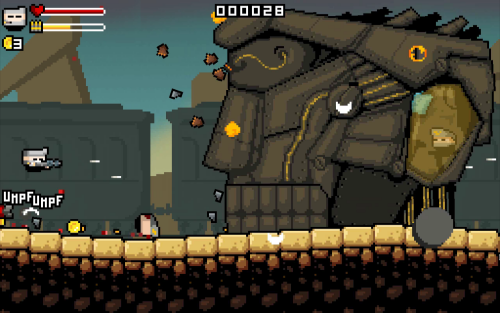 And yes, there is no Game Over since you can continue the game every time you become dead meat. Though this helps some people to enjoy the game without any difficulties, I personally am against such idea since it removes the challenge of the action game. While on the other hand, I personally also do not want to start over from Stage 1 when I lose all lives since it would be boring – since that level design problem still exists.
Gunslugs 2 is not completely bad; the art direction is pretty and lovable, though the boss designs have no appeal. The soundtrack is also good, though the game has only one soundtrack to begin with. Nintendo 3DS port is actually a wise idea since it has better physical control than playing the game with touchscreen – you also have a nice 3D view special to Nintendo 3DS. If you care to try, you may purchase the game for $4.99 on the Nintendo 3DS eShop.