If you're a fan of Hatsune Miku, we probably don't need to tell how big of a deal this game is.
Thanks to juggernaut video game developer and publisher SEGA, our favorite Vocaloid virtuoso and her friends are back for another virtual adventure. Pack along your joy-cons and accompany Hatsune Miku on a tour around the world. She'll be relying on you to make sure each performance is a success, so whether or not she can woo the crowd is entirely up to you!
Rhythm Game
The Rhythm Game is split into two modes: Arcade Mode and Mix Mode. Each one includes at least 83 of Hatsune Miku's most popular songs, and five difficulty rankings. If you're new to the series, you'll want to start on Easy or Normal to get the hang of things. If you're confident and think you can handle anything this game throws your way, playing on hard is worth a shot; clearing it at this difficulty ranking will unlock the "Extreme" difficulty option. Some tunes are even available at an even more intense level called "Extra Extreme" — which more than lives up to its name.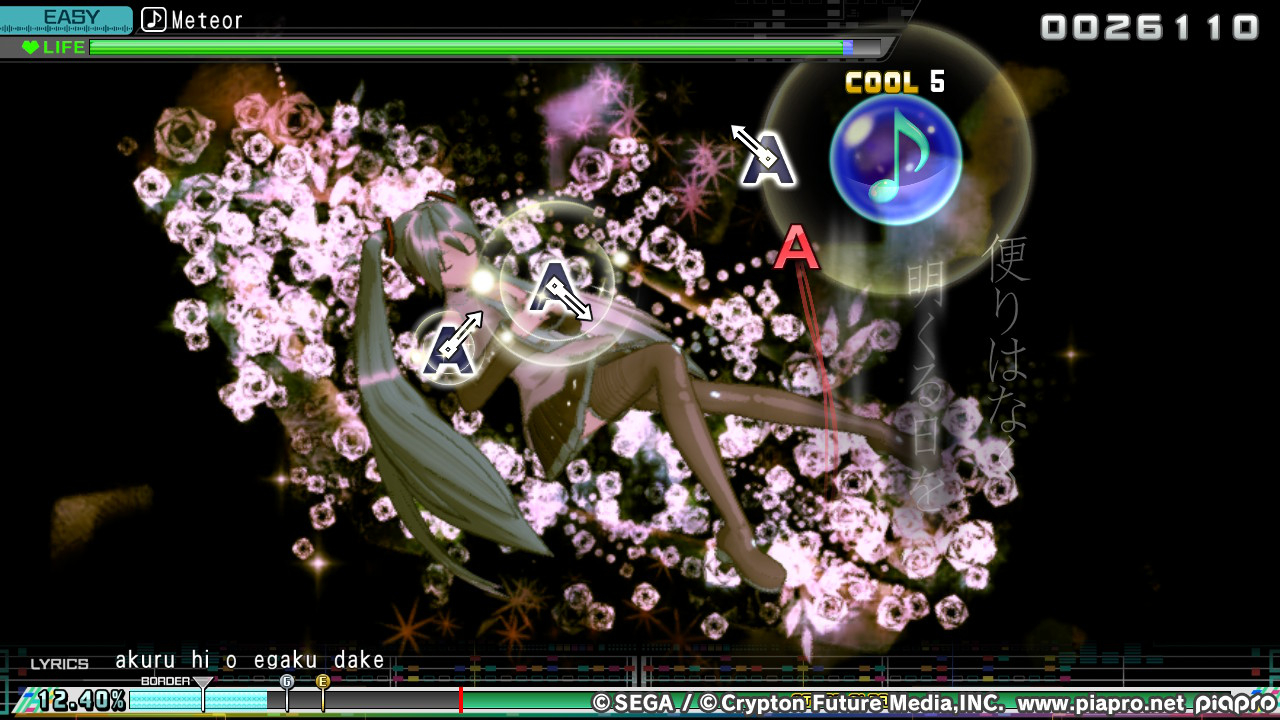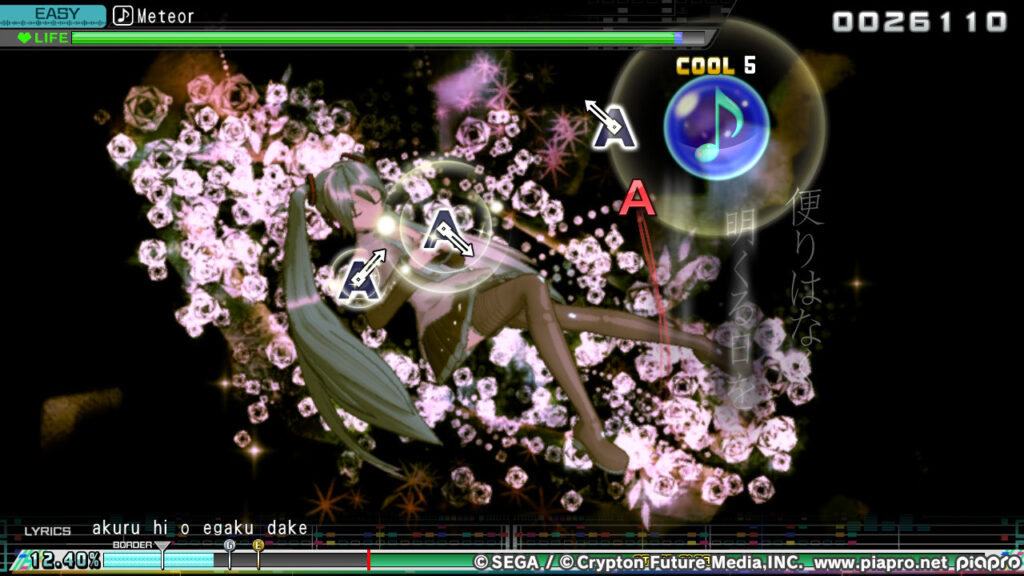 Arcade Mode
Fans of previous Hatsune Miku titles are already familiar with Arcade Mode. It's the classic gameplay formula that's been enjoyed by fans since Hatsune Miku's first foray into gaming, the original Hatsune Miku: Project DIVA. As the song of your choice plays, its music video runs in the background. On the foreground, silhouettes of the buttons on your controller will pop up on the screen with a timer in the middle, indicating how long you'll have to wait before you can press the corresponding button.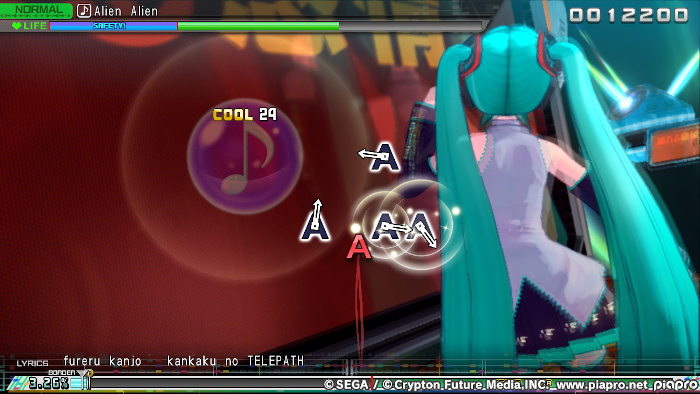 It isn't like Rock Band or Guitar Hero in the sense that the notes you're supposed to hit won't scroll down the screen in chronological order; rather, the buttons can appear anywhere on the screen. You'll have to keep an eye out for where they spawn. While it's slightly more difficult to keep track of, it definitely adds an intriguing challenge that competitive players will be more than eager to take on. Having a timer at the center of each silhouette makes it a little easier to track which buttons you're supposed to press, and when you're supposed to press them. Use the timers as your cue, and you'll get the hang of it eventually.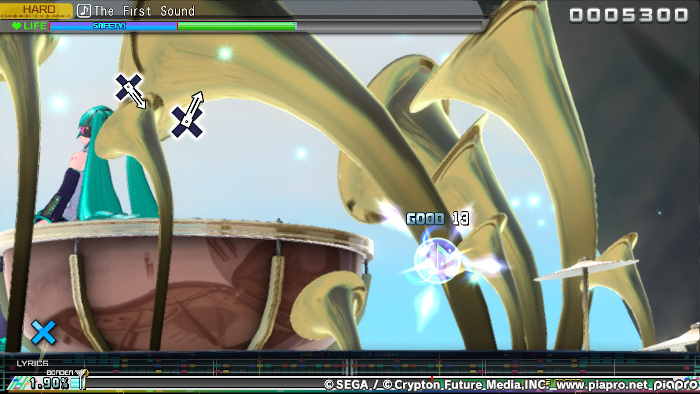 Keep in mind that there's a learning curve if you've never played a Hatsune Miku game before, so don't be too frustrated if you find yourself failing your first gigs on Easy or Normal. It isn't tough to get lost in the flurry of lights and commotion, but a little practice goes a long way. That, and there's always No Fail Mode for those who want to learn and Practice Mode for those who want a warmup before lunging in.
Game Modifiers
Arcade Mode also comes with Game Modifiers to up the ante. This is perfect for players that are getting too complacent on one difficulty setting but aren't quite ready to move up to the next, or want a bit of a challenge. These three modifiers are called Hi Speed, Hidden, and Sudden. Hi Speed will turn up the tempo without changing the difficulty ranking, Sudden will spawn one note at a time, and Hidden will make the notes invisible right before you're supposed to press them.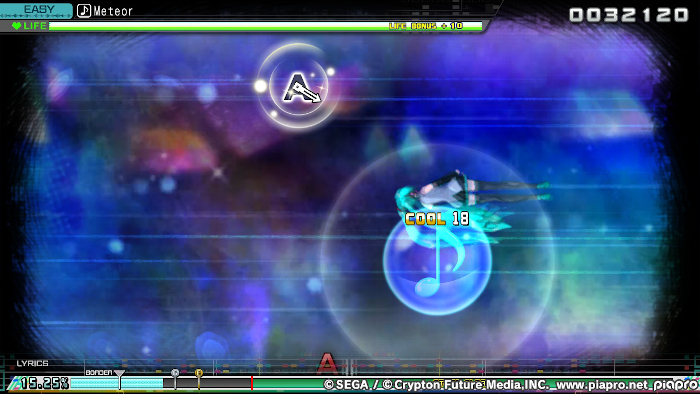 Mix Mode
Mix Mode is completely new. You'll want to play this mode while your Nintendo Switch is docked, because you'll be relying on the motion sensors a lot. Here, the buttons do appear in chronological order, and you'll only be using ZL and ZR. You'll have to twist your joy-cons to match the button sequences displayed on the screen. Increasing the difficulty settings will make the targets smaller, along with your hit box; Mix Mode comes with a modifier, too: Note Speed. Players can change the pace of their play by adjusting these settings, which range from 1 to 10. Cruise by on 2 after a long day, or test your tempo and dial it up to 9!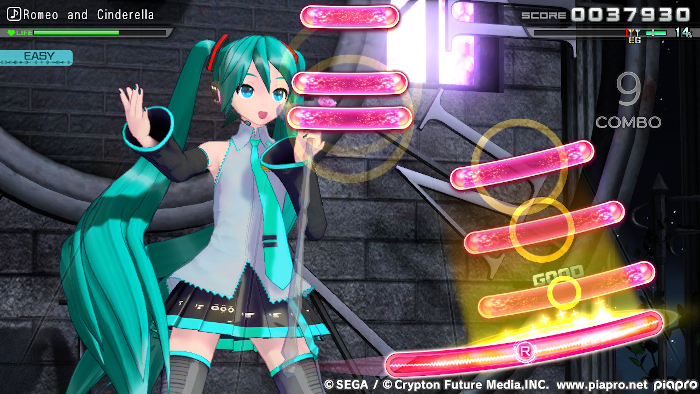 Keep in mind that the controls here aren't very precise. Playing on the easier difficulties without adjusting the Note Speed shouldn't present much difficulty, but you'll definitely notice if you're playing on a harder setting or if you mess with the Note Speed. It can be frustrating, and it puts a damper on  the otherwise-intriguing Mix Mode's magic.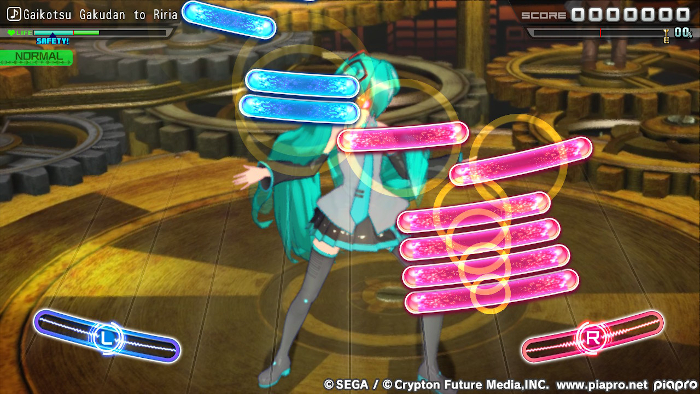 Other Features
Custom Playlists: In case you're not in the mood for playing and just want to listen to some music, Hatsune Miku: Project DIVA Mega Mix has you covered. While you can also watch music videos in Rhythm Mode, going into your Custom Playlists library will allow you to create your own playlists instead of going through the songs and playing them on a one-by-one basis.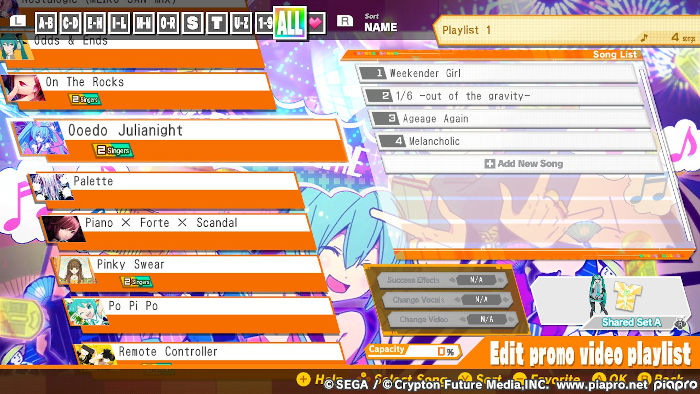 Customization: The more you play to the end of each song, the more you'll be rewarded in VP, the game's currency. With VP, you can buy a wide selection of outfits, accessories, and hairstyles for Hatsune Miku and her friends. Saving the outfit will allow her to wear them in music videos. If none of the outfits are to your liking, you can create up to five custom shirts, too.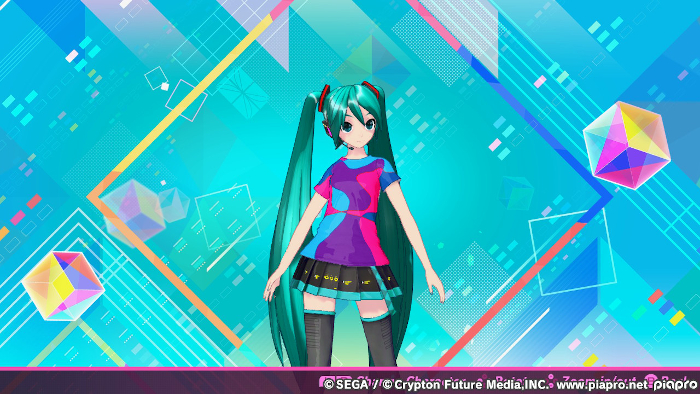 Music
Of course, the main attraction of this game is the music. Hatsune Miku fans will be pleased to know that there are plenty of songs included in the base game — an impressive 101 in total. 10 are new, while the other 91 are returning from previous entries. Six song packs are currently available as DLC, and each of these packs include six songs. Together, that's 137 unique tracks.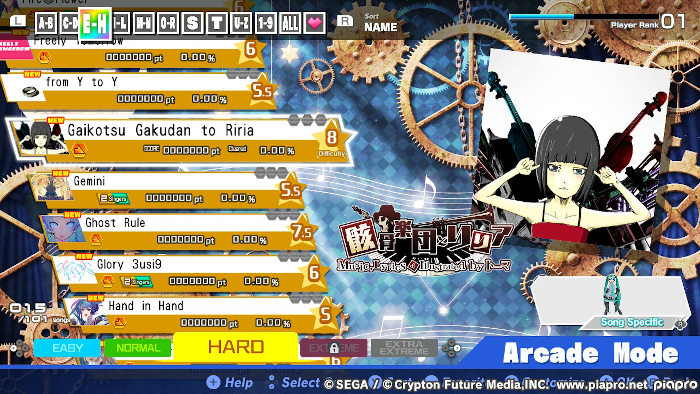 What they might not be pleased to know is that compared to PS4's Hatsune Miku: Project DIVA Future Tone, the amount of songs featured in this game is relatively sparse. The aforementioned title had 220 base songs, along with more available as paid DLC. While the new songs are included as a part of the base game for Project DIVA Mega Mix, they're also available as paid DLC for Project DIVA Future Tone.
If you've played earlier Hatsune Miku games, you'll be satisfied with the number of tracks, since it is comparatively larger than the majority of song banks in previous entries. For players coming from Project DIVA: Future Tone, though, it might be a bit disappointing, especially if your favorite songs have been cut or made part of a paid DLC bundle.
Graphics
Hatsune Miku: Project DIVA Mega Mix's bright lights and flashing imagery make this game particularly memorable. Arcade Mode performs with more stability than Mixed Mode, where the game's stability sometimes suffers. Rendering scenes with a lot of different actors and movement causes it to run slower, which is most noticeable in videos that feature backup dancers. Overall, its use of the Nintendo Switch's faculties is impressive. Are Mega Mix's graphics as impressive as the graphics of Hatsune Miku: Project DIVA Future Tone? No, but it wouldn't be entirely fair to compare the Nintendo Switch's engine to the engine of the PS4.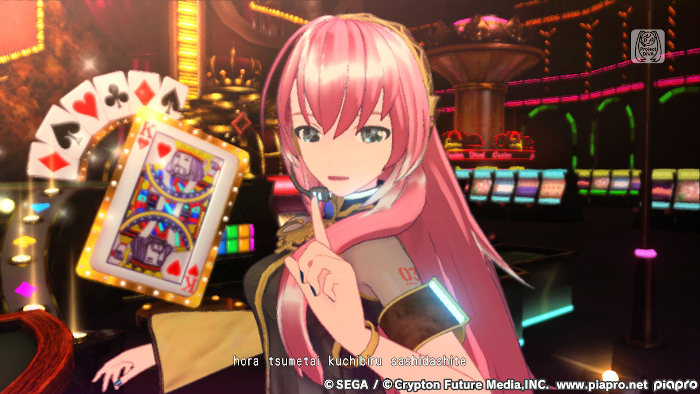 Verdict
If you're a Hatsune Miku fan, this is definitely an adventure you'll want to accompany her on. With plenty of songs and a plethora of unlockable modules, this game is sure to keep you busy through the summer. While Mix Mode could have been integrated better in terms of both graphics and motion control, fans of the series will likely be too  preoccupied with the return of Arcade Mode to let it influence their decision. After all, Arcade Mode is what tried and true players fell in love with.
Hatsune Miku: Project DIVA Mega Mix gets a 7/10.