A Hello Kitty racing game for the Nintendo 3DS has been spotted on Gamefly titled, "Hello Kitty & Sanrio Friends 3D Racing". According to the listing, the game will be available on November 11th in the US and will be published by Majesco, the same publisher behind Cooking Mama.
No gameplay footage, box art or details such as whether the game will also have a digital download option have been revealed as of this date.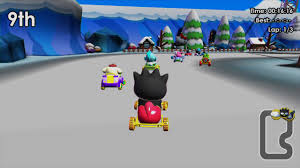 The image above is gameplay footage of Hello Kitty Kruisers, not Hello Kitty & Sanrio Friends 3D Racing
ESRB has already given the game a rating summary :
This is a racing game in which players drive Hello Kitty and her friends in karts, boats, and planes around whimsical race courses. Some races contain power-up items (e.g., speed bursts, traffic cones, pies) that are tossed at other racers, causing them to briefly spin out of control
It sounds interesting, if you ask me.