I was looking for a different casual game when I heard about Hometown Story. You can see for yourself that Natsume printed the US box art with "The Family of Harvest Moon." Who would not have be convinced by this, especially if you are a fan of the series? I was convinced by another thing, though: Nobuo Uematsu took part composing soundtrack for this game. It was interesting to find out how an RPG composer tuned differently for a life simulation.
Hometown Story is a life simulation game created by Harvest Moon creator Yasuhiro Wada. Atsuko Nishida (Pikachu designer) helped with character designs, and Uematsu with compositions. It has similar premise to Harvest Moon series so far: our main character – you can choose to be a male or female – comes back to his village to run his/her grandmother's shop. As you progress throughout the game, many people would come to the village and live there. At some point, you have to decide whose wish to grant. It's even possible to grant your own wish!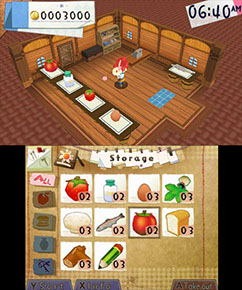 There are three basic life-simulation activities you can do in Hometown Story. First, you do shop-keeping, including being a reseller and expanding the shop. You arrange desks and place your products. People will come and look for their favorite stuff to buy, so keep in mind to have their likings (don't worry, there is a list). If you are lucky, certain items placed will trigger special event. Yasuhiro Wada intended this to create different experience; some people are frustrated, yet I found it exciting enough.
Gathering is another activity you can do while exploring the village. There are fruits and mushrooms to pick, and even gem. Unfortunately, you cannot farm, fish or mine minerals. It's just so sad because we cannot dirty our hands with various jobs. Interacting with people is the main feature in Hometown Story, because the story progresses here. Besides trigger item, going to certain places will do cutscenes. We have to check whether a new house is built or a new character appears in a different place than usual.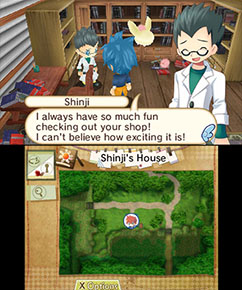 The main characters have strong background stories – between humorous and melancholic. Unexpected events will come, and some of them are really depressing — prepare your heart for the saddest moments. I think it is the strength of the game because it offers a chance to understand peoples' lives and how certain events shaped their characteristics. The character designs are cute – they are simple drawings with little detail, but I personally like it. Yet the gameplay is bland, the exploration is dull. Some technical stuff are bad; I personally hate the camera view. The soundtrack is so-so, which is unexpected from a legend like Nobuo Uematsu. Few pieces are good and heart-warming, but the others are mostly repetitive.
Hometown Story costs $29.99 after getting a permanent cut from $39.99. If you want to buy it because you want to experience Harvest Moon's various life-simulation, I do not recommend it. However, I think Hometown Story still shares the similar happiness that the Harvest Moon series have. Or I hope so.
Verdict: 5/10