After entering Tokyo in Shin Megami Tensei IV, you will eventually encounter a horde of demons that ask you to bring another demon's head. It appears as if the horde of demons dislike this one demon named Peallaidh. To progress further in the game, you will be required to fight with Peallaidh and win. Finding him is the difficult part.
At this point in the game, you will want to find the counter demon force military base. It's across the river, however, to get there, you must first defeat Peallaidh in battle. After defeating him, you will obtain his head. After, hand it over to the horde of demons.
How To Find Peallaidh and Get His Head in Shin Megami Tensei IV
In Tokyo, go to the Ueno Hunter Association (also known as the bar in Ueno), and choose the option to talk. There are four options; heal, examine bulletin board, talk, and deliver. One out of the four people who you can talk to will give you the quest, 'Peallaidh Extermination'. After accepting the quest, you can find Peallaidh at Shinobazu Pond (Peallaidh can't be unlocked without accepting the quest). Shinobazu Pond is one of the areas that is close by.
Peallaidh can be found at the red highlighted mark from the screenshot below :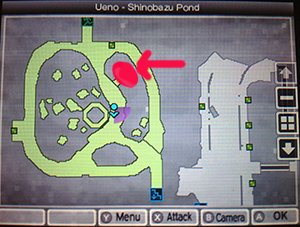 ( Map of Shinobazu Pond in Shin Megami Tensei IV – The red highlighted spot points to Peallaidh's location )
After encountering Peallaidh, he will summon a horde of demons to fight you. Do not use ice skill attacks against these demons. It will not damage them and you will lose a turn. As for Peallaidh, he battles with you after you defeat his horde of demons. I did not manage to unlock his weakness, however, most skill attacks should work against him. I tried physical, force, fire, electric, bullets, and regular attacks. All worked.
Updated: I recently obtained Peallaidh from a demon fusion and he blocks ice element attacks. I can't remember if I used an ice element attack against him when we were battling against each other, however, just to be safe, don't use ice element attacks against him.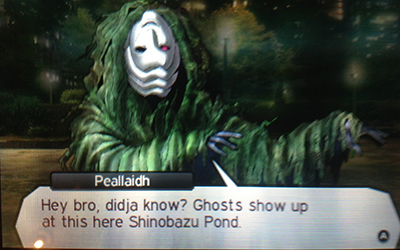 ( What Peallaidh looks like in Shin Megami Tensei IV – Battle at Shinobazu Pond )
After defeating Peallaidh, head back into the main map of Tokyo and look for the horde of demons that wanted Peallaidh's head. They did say that they can help you out if you did this favor for them, so check out what they have to say.