The Holy Drop is an item you will be required to obtain to progress further in the story of Atelier Ryza: Ever Darkness & the Secret Hideout. It's one of the materials needed to create the Pynnor Key with alchemy. This guide will help you get it.
Materials required to make the Pynnor Key:
Holy Drop (created with alchemy)
Old Pynnor Key (obtained during the story)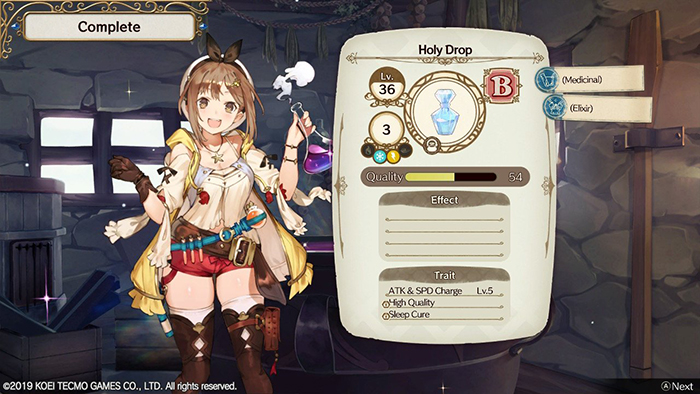 Getting 'Holy Drop' in Atelier Ryza: Ever Darkness & the Secret Hideout
Step 1: Make or Buy Flour and transform it into the Poison Cube
You can either make flour with alchemy or purchase it from a merchant at Kurken Port on Kurken Island.
Making flour is fairly simple. You'll need Wasser Wheat which should be simple to obtain at this point in the game. Climb the chain to the right and top to find the Poison Cube recipe. You will need Beast Venom Pouch to make it.
After making it, you will unlock the Poison Cube recipe.
Step 2: Make a Taboo Drop out of the Poison Cube
Next is making a Taboo Drop out of a Poison Cube recipe with alchemy.
You'll need at least two Beast Venom Pouches to get to the Taboo Drop icon. You will need an Underworld Rotwood to unlock the recipe. The Underorld Rotwood can be obtained from the Underworld (as the name suggests) or the Hidden Cove.
Step 3: Make the Holy Drop from the Taboo Drop Recipe
Finally, you have to make the Holy Drop (the item needed to make the Pynnor Key). This can be done from using the Taboo Drop recipe to unlock the Holy Drop recipe. Use an Underworld Root and make your way to the bottom-right of the chain.
You may need the following to complete the recipe:
Dragon Wing
Heavy Wyrm
Dragon Meat
These may be item drops from monsters you defeat while progressing through the story.
You will also need at least two Poison Cubes (you can use what you created) and a Holy Tree Leaf. The Holy Tree Leaf can be obtained at the Pynnor Holy Tower, most likely at the Heretic's Lab.
After following all of the steps above, you should get to the Holy Drop recipe.