It is possible to play Super Mario 3D Land as Luigi. Luigi is an unlockable character in the game, and this tutorial will teach you how to unlock him.
How To Play As Luigi In Super Mario 3D Land : 
It's simple. Nothing long to explain. To unlock Luigi in Super Mario 3D Land, you will be required to beat the first 8 worlds of the game and rescue Princess Peach. After defeating the first castle in the special world, Luigi will be unlocked after you save him. To play as him during the gameplay, select the "L" icon on the bottom screen of the Nintendo 3DS.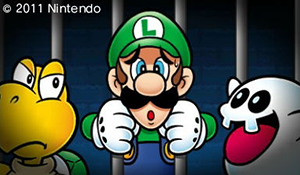 ( Luigi needs help – Super Mario 3D Land letter )
The letter above shows you that Luigi has been captured and needs your help. Keep playing if you have not seen this letter yet during the gameplay. After defeating the 8 worlds in the game, you should receive this letter before advancing to the special worlds.
Question : Does Luigi have any special abilities in Super Mario 3D Land?
Answer : No, he does not – unfortunately.