If you're trying to unlock characters through the VS mode in Super Smash Bros. Ultimate and you somehow lose to a character, you will eventually discover the character you lost against will not show up again (maybe if you still have pending characters to unlock). This guide shows you how to rechallenge them.
How To Rechallenge Characters in Super Smash Bros. Ultimate
Launch Super Smash Bros. Ultimate and choose "Games & More" from the menu.
Scroll down to the tiny door at the bottom-right.
Choose your character and fight characters who defeated you before.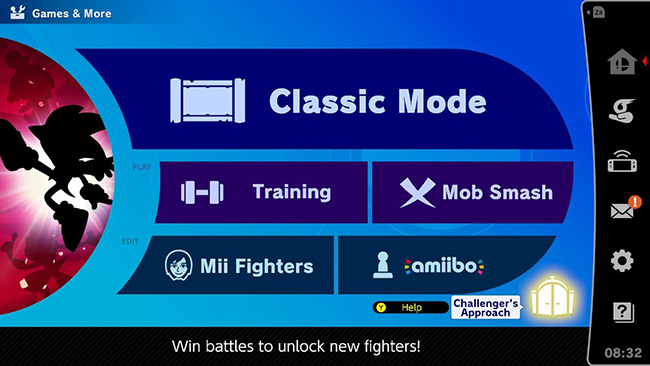 List of characters in Super Smash Bros. Ultimate:
Bowser Jr.
Captain Falcon
Cloud
Corrin
Daisy
Dark Pit
Diddy Kong
Donkey Kong
Dr. Mario
Duck Hunt
Falco
Fox
Ganondorf
Greninja
The Ice Climbers
Inkling Boy and Girl
Ike
Jigglypuff
King Dedede
Kirby
Link
Little Mac
Lucario
Lucas
Lucina
Luigi
Mario
Marth
Mega Man
Meta Knight
Mewtwo
Mii Fighter
Mr. Game & Watch
Ness
Captain Olimar
Pac-Man
Palutena
Peach
Pichu
Pikachu
Pit
Pokemon Trainer
Ridley
R.O.B.
Robin
Rosalina
Roy
Ryu
Samus
Sheik
Shulk
Snake
Sonic
Toon Link
Villager
Wario
Wii Fit Trainer
Wolf
Yoshi
Young Link
Zelda
Zero Suit Samus
Simon Belmont
Richter
Ken Masters
Inceneroar
Piranha Plant
Dark Samus
Chrom
Simon
Richter
King K. Rool
Isabelle
This list does not include DLC characters that will appear after January 2019 (eg. Joker).