Kapp'n charges 1,000 Bells per round trip to the island in Animal Crossing: New Leaf. There is a 45 second wait before stepping foot on the Island, and during that time period, he sings you a song. It's all good after hearing it for the first 5 times, however, it gets annoying to constantly wait 30 to 60 seconds just to go to a new location in the game.
If you are wondering how to skip this song, this guide teaches you how to.
How To Skip The Song When Going To The Island in Animal Crossing: New Leaf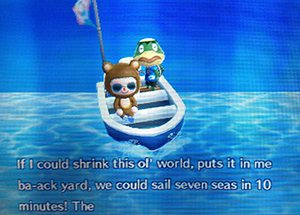 ( Screenshot: Kapp'n singing a song while carrying me to the Island in Animal Crossing: New Leaf)
The "B" button on the Nintendo 3DS isn't only for speeding up the text speed in Animal Crossing: New Leaf. Pressing the "B" button multiple times will also skip the song that Kapp'n sings while he takes you to the Island. Press the button multiple times and the entire song will be skipped. Kapp'n will also make a reply, saying something about you being seasick for him to hurry up, however, the reply changes every once in a while.