If you're purchasing a Nintendo 3DS handheld console for the first time and you are worried about cheaters online, you might want to research and find out if there is an Action Replay available for the Nintendo 3DS. I don't blame you – I did a search too, heh. Putting all of that aside, technically the answer is both yes and no.
There is an Action Replay that works with the Nintendo 3DS, however, its codes only affects regular Nintendo DS games, not 3DS games. Currently, there are no cheats for the Nintendo 3DS. Therefore, you can finally enjoy a clean, hack free online match over Wi-Fi for any of your favorite Nintendo 3DS games.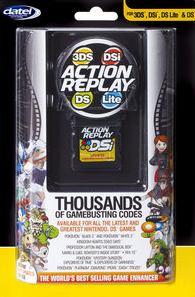 ( Photo of the Action Replay's box for the Nintendo 3DS )
The Action Replay works on the following devices listed below :
Nintendo DS

Nintendo DS Lite
Nintendo DSi
Nintendo 3DS
It sells at GameStop, Walmart, Amazon, you name it. Its price tag is around the $20-$30 range. Anything more will just be overpriced. Therefore, I recommend that you pick one up from a well known retailer, if you are interested in picking one up, of course.