Just Shapes & Beats is a musical bullet hell game developed and published by Berzerk Studio. Released first on the Nintendo Switch on May 31 2018.
Gameplay
Players control a little blue square where they must do their best to get through levels without touching anything that's pink to avoid getting damaged. Each level is crafted beautifully with its own music track and a unique design comprised of just shapes. All these elements in the levels come together to make something truly satisfying to look at, listen to, and play through.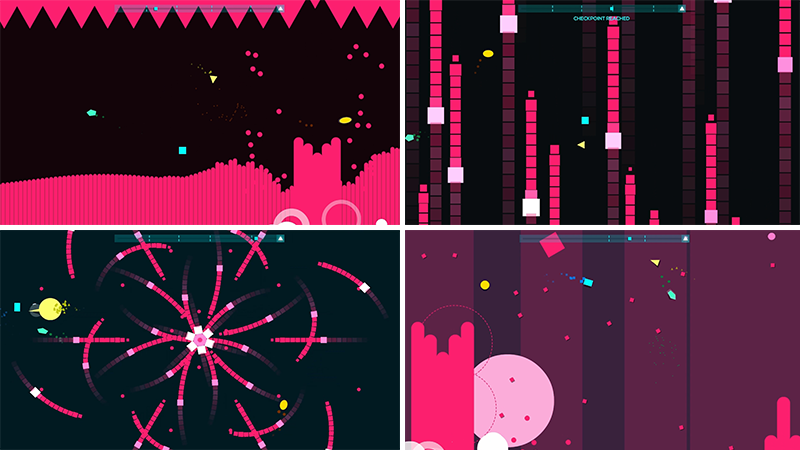 The controls in this game could not be easier. You move your square around the screen with the left analog stick or with the D-Pad. After, you use the A button to perform a dash move which is the key to this game. It allows you to quickly dart to a different spot on the screen while giving you some brief invincibility, allowing you to pass through the pink objects, coming in handy if you're ever in a real pinch.
Game Modes
There are plenty of game modes to choose from. The main modes are Story Mode and Challenge Mode. The story mode is the best way to experience the game for the first time as it takes you through a lot of levels cleverly put together in a world with an interactive map while keeping you entertained with a little story that has characters, bosses, and more.
The story mode has a nice addition called casual mode. Casual mode can be activated if you're struggling with the difficulty of the gameplay so you can still enjoy the game.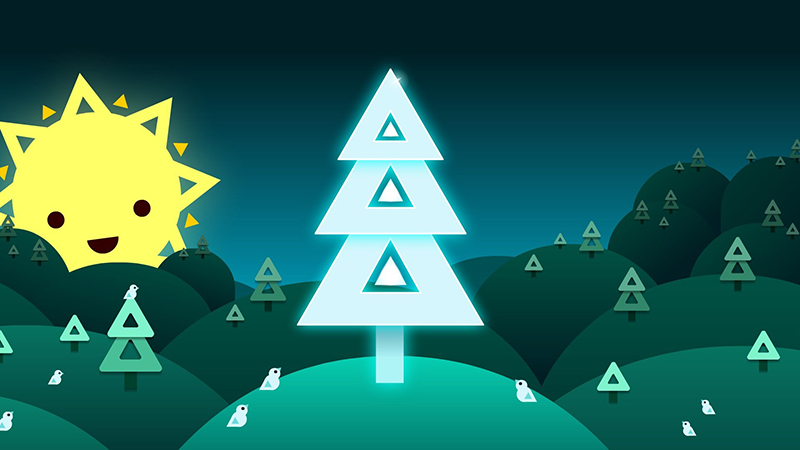 Challenge Mode lets you play through 2 levels and a boss battle in order to earn some beat points. It adds new elements in every level in the game to ramp up the difficulty. The beat points you earn can be used to unlock extra levels in the game through the Playlist. The Playlist is where you can select from any level in the game to play through and attempt to get the highest rank you're capable of from C to S.
In addition to the above modes, a Hardcore Mode and Party mode are present. Hardcore Mode offers a next level of difficulty to players who want more of a challenge while Party Mode is for the music and visuals without any "game over" screens.
Music
The game's music is one of its biggest aspects, so what can you expect? Electronic and chiptune are what you're going to be listening to while playing. All of the tracks are great with high energy and nice beats, produced from many different talented artists such as Chipzel, Big Giant Circles, Danimal Cannon, Sabrepulse, Kubbi, Nitro Fun, Pegboard Nerds, and the list goes on.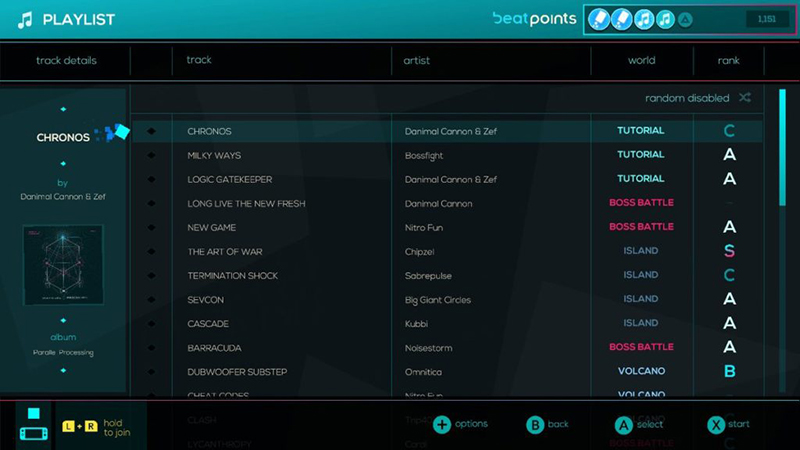 Replay Value
When you're done playing alone, you can experience the gameplay in 4 player local co-op. Got no friends to play with locally? No problem! The game also supports online play with 4 players via local co-op or online in its challenge mode.
Conclusion
If you're looking for a nice challenge with sick beats to jam out to, Just Shapes & Beats is the game for you. Although it's a fun game with amazing tracks to listen to while playing, it may not be for everyone. Some people may not be a fan of the type of game that it is and will find it to be more difficult than enjoyable. Casual mode makes the game more accessible to players, however, it's not going to fix the fact that its gameplay is in the bullet hell genre. Thankfully there is a free demo to experience it for yourself.
With a price tag of $19.99 (USD), it's well worth the price and I enjoyed every moment I had with the game, considering I was never a fan of bullet hell type of games.
'Just Shapes & Beats' receives a 9.5 out of 10.