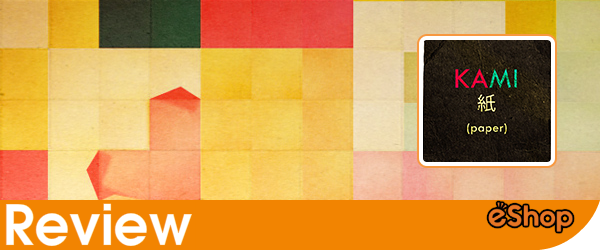 Handheld and puzzler is a good couple for your companion, especially for commuting people. It needs less time to take a slice, still you will need to give some thought into – it is a puzzle after all. Taking this opportunity, Circle Entertainment decided to port a puzzle mobile game to Nintendo 3DS eShop. The game is developed by State of Play, and it is called KAMI.
KAMI is a puzzle where you deal with papers. The title itself is self-definitive – KAMI is Japanese word for paper. The premise is quite simple: turning many-colored paper into one-colored paper. Pick a part you wish to change, and it will be folded into the color you choose, joining the other part of the paper with same color (only if they are connected). Yes, this is a stylus-only game.
There are two parts of the game, being classic and premium puzzles. The classic one consists of five groups of puzzles, with each group having nine puzzles – a total of 45 puzzles. Premium puzzles will be unlocked after solving all puzzles in classic part, with a total of 4×9 puzzles. You will have limited moves to solve a puzzle, from a range from 2 to 8 moves. The number of moves you have to take is hinted on your touch screen; if you can finish in the same number, you will get Perfect. Adding one or two extra moves will result in OK, more than that and you will be KOed.
A Japanese traditional BGM will accompany you through working out your grey cells – it is a nice one, but being a port, the BGM remains the same every time. Have no worry, an option to turn off BGM is there. The quality of the puzzles is perfect – getting an OK is easy enough, but you will scratch your head several times to get a complete Perfect, not to mention the stunning aesthetic side.
What is a miss from the port is the feel: in the original version, you play KAMI on a single screen – we touch the part we want to change color, and the part will be folded. But in the Nintendo 3DS, a different screen is used to touch the part of the paper. The feel is kinda different, and sometimes I was focused on the bottom screen more than the upper screen containing the paper with beautiful texture and movement. Also, bear in mind that the 3D feature is not supported.
Nevertheless, KAMI is still a great puzzle game where you fold difficulty into beauty. You may purchase it for $2.99 on the Nintendo 3DS eShop.