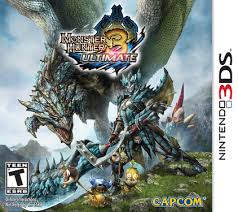 | Region | Release date |
| --- | --- |
| North America | March 19, 2013 |
| UK/Europe | March 22, 2013 |
| Japan | December 10, 2011 |
Monster Hunter 3 Ultimate, also known as Monster Hunter Tri G in Japan, is an action role-playing game (RPG) that was developed by Capcom and made available for the Nintendo 3DS. Monster Hunter 3 Ultimate is the first game to support the Circle Pad Pro (CPP) accessory for the 3DS. Although the game does not support online multiplayer over Wi-Fi, the player will be kept occupied for hours during the single player gameplay. It is also possible to play with friends that own a Wii U copy of the game or transfer saved data between the Wii U and the 3DS.
Useful Links :
This review is not available yet, sorry.
79 out of 100
Metacritic MetaScore
During the gameplay, players can select their weaponry and complete quests. There are several types of quests that a player can tackle which are categorized into; gathering quests, hunting quests, and capturing quests. The game features new creatures/monsters (eg. Brachydios – a new Brute Wyvern that can be found in the Volcano area), underwater combat, and a higher level rank known as G rank.
| Questions | Answers |
| --- | --- |
| Wi-Fi Multiplayer Gameplay | No |
| Local Multiplayer Gameplay | Yes |
| Game Available at eShop | Yes |
Monster Hunter 3 Ultimate Trailer (Wii U and 3DS) :
http://www.youtube.com/watch?v=TDw4CGhgT_s
Monster Hunter 3 Ultimate Tips and Tutorials
Nothing here yet, sorry.