Nintendo Australia is having a promotion for new Nintendo 3DS owners who live in Australia. Yes, you can get a free 3DS game if you're eligible – more details below.
Basically, to score yourself a free game, you will be required to purchase a Nintendo 3DS (not the XL version) between June 20 and July 31 2013. In addition, the 3DS owner is required to connect the console with Club Nintendo by September 30, 2013.
By doing this, you will be eligible to download one of the following games from the list below via Nintendo eShop. Most of the games from the list are great 3DS games.
List of Nintendo 3DS games to choose from :
Animal Crossing: New Leaf

Luigi's Mansion 2
Nintendogs + cats: Toy Poodle and New Friends
New Super Mario Bros. 2
Super Mario 3D Land
Mario Kart 7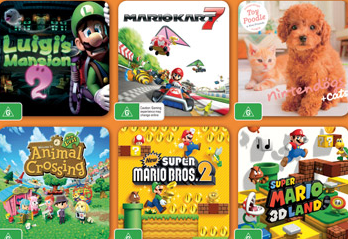 ( Photo of all six Nintendo 3DS games / Image credit : Nintendo Australia )
Note: Animal Crossing New Leaf will be available on June 15 in Australia.
How to claim the free Nintendo 3DS game download
Buy a Nintendo 3DS between June 20 and July 31 from Australia or New Zealand.

Register the device with Club Nintendo using the provided registration card.
Verify if the email that is linked with the Club Nintendo account is correct.
After, follow the on-screen prompt to select a free 3DS game.
You should receive the download code.
Use the download code via Nintendo eShop to download the game.
The promotion is only valid to Nintendo 3DS owners who purchase the console from a participating retailer in Australia or New Zealand. Unfortunately, this offer is not available to Nintendo 3DS XL owners.
Source : Nintendo Australia – Great Games Promo.
.