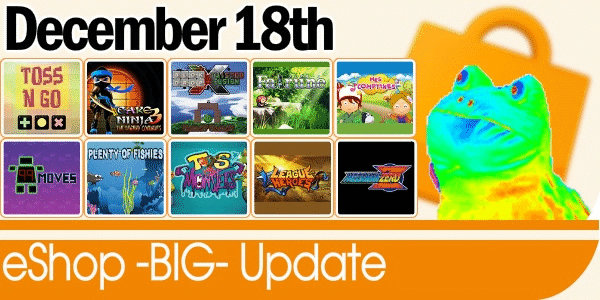 – 3DS Winter 2014 Bonus Game Promotion: (Europe) Link
If you register your 2DS / 3DS / 3DS XL system and a copy of Super Smash Bros. for 3DS, Pokémon Omega Ruby or Pokémon Alpha Sapphire, you will get a free game! Seven big retail games to choose, being available until January 12th 2015.
– Super Smash Bros. Mewtwo and OST Club Nintendo Promotion [North America]
Buy both Super Smash Bros. for 3DS and Wii U before January 13th and get a soundtrack CD, and before March 31st for the Mewtwo DLC. Link.
– RCMADIAX Holiday Offers
All RCMADIAX games are on sale on the Wii U eShop until January 7th! Link.
– 99Moves Discount Promotion (Permanent?) [Europe]
If you own 99Seconds, Abyss, Darts Up, Rock Zombie or Unepic on your Wii U (with the same NNID), you can get 99Moves for 40% off! (around €1.49 / £1.39)
– Free METAL GEAR SOLID SNAKE EATER 3D Home Theme (Permanent) [Europe]
Buy Metal Gear Solid: Snake Eater 3D on the Nintendo eShop from December 19th at 11am CET in order to get a free code for this Home Theme!
– Shin'en Multimedia Winter Sales
All Shin'en Multimedia Winter Sales are on sale until January 8th! Link.
– The rest of the sales!
If you want to see a list with all the sales includes, please follow this Link.
---

Wii U eShop
99Moves – EnjoyUp Games – $2.49
BLOK DROP X TWISTED FUSION – RCMADIAX – $1.99
TOSS N GO – RCMADIAX – $0.99
Plenty of Fishies – Nitrolic Games – $4.99
Meme Run – Ninja Pig Studios – $4.99
Cake Ninja 3: The Legend Continues – Cypronia – $4.99
Wii U Virtual Console
Natsume Championship Wrestling (SNES) – Natsume – $7.99
Mega Man Zero (GBA) – Capcom – $7.99
Wii U eShop Temporary Discounts
Until December 22nd
Mega Man 5 (NES) – Capcom – $2.49 ($4.99)
Mega Man 6 (NES) – Capcom – $2.49 ($4.99)
Mega Man 7 (SNES) – Capcom – $3.99 ($7.99)
Until January 1st
SteamWorld Dig – Image & Form – $4.99 ($9.99)
Little Inferno – Tomorrow Corporation – $4.99 ($9.99)
Until January 8th
Ping 1.5+ – NAMITENTOU – $1.99 ($4.99)
Wii U Free Demo
Art of Balance – Shin'en Multimedia

Wii U Retail Download
Transformers Prime The Game – Activision – €49.99 / £39.99
Angry Birds Trilogy – Activision – €39.99 / £29.99
Wii U eShop
99Moves – EnjoyUp Games – €2.49 / £2.29
Wii U Virtual Console
Mighty Final Fight (NES) – Capcom – €4.99 / £3.49
Street Fighter 2010: The Final Fight (NES) – Capcom – €4.99 / £3.49
Wii U Free Demo
Art of Balance – Shin'en Multimedia

3DS Retail Downloads
Metal Gear Solid: Snake Eater 3D – Konami – $29.99
Asterix: The Mansions of the Gods – Bigben Interactive – $34.99
I Love My Horse – Bigben Interactive – $24.99
3DS eShop
Toys vs. Monsters – EnjoyUp Games – $1.99
Fairune – CIRCLE Entertainment – $2.99
League of Heroes – Gamelion – $4.99
Mes Comptines – RingZero Games – $4.99
3DS Virtual Console
Harvest Moon 3 (GBC) – Natsume – $4.99
3DS Home Theme
Super Mario: Blue – Nintendo – $1.99
A Merry Mario Holiday – Nintendo – $1.99
Animal Crossing: New Leaf: Jingle's Toy Day – Nintendo – $1.99
Metal Gear Solid: Snake Eater 3D – Konami – $1.99
3DS eShop Temporary Discounts
Until December 22nd
Mega Man II (GB) – Capcom – $1.49 ($2.99)
Mega Man III (GB) – Capcom – $1.49 ($2.99)
Mega Man IV (GB) – Capcom – $1.49 ($2.99)
Until January 1st
SteamWorld Dig – Image & Form –  $5.99 ($8.99)
3DS Free Demo
Cube Creator 3D – Big John Games
Urban Trial Freestyle – Tate Media

3DS eShop
Toys vs. Monsters – EnjoyUp Games – €1.99 / £1.99 until December 31st, then €3.99 / £3.99.
Sumico – Engine Software – €2.99 / £2.69
Castle Conqueror Defender – CIRCLE Entertainment – €4.99 / £3.99
3DS Retail Release
Transformers Prime The Game – Activision – €39.99 / £29.99
Angry Birds Trilogy – Activision – €39.99 / £29.99
Moshi Monsters Moshlings Theme Park – Activision – €29.99 / £19.99
3DS DLC
Persona Q: Shadow of the Labyrinth – NIS America:
Navigation: Marie – €2.99 / £2.69
Navigation: Nanako – €2.99 / £2.69
3DS Temporary Discounts
Until January 1st
Code of Princess – AGATSUMA – €20.50 / £17.25 (€29.99 / £24.99)
Until January 2nd
Another World: 20th Anniversary Edition – Digital Lounge – €3.99 / £3.59 (€7.99 / £7.19)
Until January 8th
Darts Up 3D – EnjoyUp Games – €0.99 / £0.89 (€2.99 / £2.69)
Demon King Box – CIRCLE Entertainment – €2.99 / £2.19 (€3.99 / £2.99)
European Conqueror 3D – CIRCLE Entertainment – €1.99 / £1.49 (€3.99 / £2.99)
Football Up 3D – EnjoyUp Games – €1.99 / £1.56 (€2.99 / £2.36)
Football Up Online – EnjoyUp Games – €2.99 / £2.69 (€3.99 / £3.59)
Fractured Soul – Endgame Studios – €2.49 / £1.99 (€7.99 / £7.19)
3DS Home Theme
Mario's Mighty Moustache – Nintendo – €1.99 / £1.79
Luigi's Mighty Moustache – Nintendo – €1.99 / £1.79
Tomodachi Life – Speech Bubble – Nintendo – €1.99 / £1.79
Stripes: Blue & White Horizontal – Nintendo – €0.99 / £0.89
Stripes: Red & White Horizontal – Nintendo – €0.99 / £0.89
METAL GEAR SOLID SNAKE EATER 3D – Konami – €1.49 / £1.39
Sonic Boom Theme Bundle – SEGA USA – €5.99 / £5.39

Sonic the Hedgehog – SEGA USA – €1.99 / £1.79
Shadow the Hedgehog – SEGA USA – €1.99 / £1.79
Amy Rose – SEGA USA – €1.99 / £1.79
Chao Theme – SEGA USA – €1.99 / £1.79
3DS Free Demo
Hello Kitty Happy Happy Family – Bigben Interaction
I Love My Little Boy – Treva Entertainment
I Love My Little Girl – Treva Entertainment
DSi Ware
My Aquarium: Seven Oceans – Collavier – 500 Nintendo Points