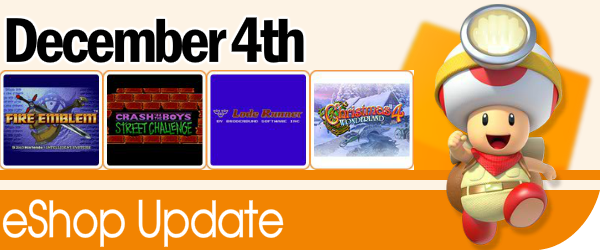 – 3DS Winter 2014 Bonus Game Promotion: (Europe) Link
If you register your 2DS / 3DS / 3DS XL system and a copy of Super Smash Bros. for 3DS, Pokémon Omega Ruby or Pokémon Alpha Sapphire, you will get a free game! Seven big retail games to choose, being available until January 12th 2015.
– Super Smash Bros. Mewtwo and OST Club Nintendo Promotion (North America)
Buy both Super Smash Bros. for 3DS and Wii U before January 13th and get a soundtrack CD, and before March 31st for the Mewtwo DLC. Link.
– The rest of the sales!
If you want to see a list with all the sales includes, please follow this link.
---

Wii U eShop
Captain Toad: Treasure Tracker – Nintendo – $39.99*
*Available from November 5th.
Wii U Virtual Console
Lode Runner (NES) – Hudson – $4.99
Fire Emblem (GBA) – Nintendo – $7.99
Wii U eShop Temporary Discounts
Until December 8th
Epic Mickey 2: The Power of Two – Disney Interactive – $9.99 ($19.99)
Disney's Planes – Disney Interactive – $9.99 ($19.99)
Until December 15th
99 Seconds – EnjoyUp Games ($1.49 ($2.49)
Wii U Free Demo
Sonic Boom: Rise of Lyric – Sega

Wii U eShop
Cake Ninja 3: The Legend Continues – Cypronia – €4.99 / £4.49
Wii U Virtual Console
Crash 'n the Boys: Street Challenge (NES) – Arc System Works – €4.99 / £3.49
S.C.A.T. (NES) – Natsume – €4.99 / £3.49
Shadow of the Ninja (NES) – Natsume – €4.99 / £3.49
Wii U Temporary Discounts
Until December 11th
Epic Mickey 2: The Power of Two – Disney Interactive – €17.49 / £14.99 (€34.99 / £29.99)
DuckTales: Remastered – Capcom – €7.49 / £5.99 (€14.99 / £11.99)
Until December 25th
Abyss – EnjoyUp Games – €1.49 / £1.34 (€1.99 / £1.79)
99 Seconds – EnjoyUp Games – €1.49 / £1.34 (€2.49 / £2.29)
Until January 30th
Fit Music for Wii U – OXYGENES RL- €14.90 / £12.40 (€29.90 / £24.90)
Luv Me Buddies Wonderland – OXYGENES RL – €14.90 / £12.40 (€29.90 / £24.90)
Wii U Free Demo
Sonic Boom: Rise of Lyric – Sega

3DS Retail Downloads
Disney Violetta Rhythm & Music – Little Orbit – $29.99
Ultimate NES Remix – Nintendo – $29.99
3DS eShop
Christmas Wonderland 4 – Microvalue – $9.99
3DS Home Theme
Legend of Zelda: Skyward Sword – Nintendo – $1.99
Mario: Items – Nintendo – $1.99
3DS eShop Temporary Discounts
From December 5th to December 19th
AeternoBlade – Corecell Technology – $7.99 ($14.99)
From December 8th until December 22nd
Etrian Odyssey IV: Legends of the Titan – Atlus – $14.99 ($29.99)
Shin Megami Tensei: Devil Summoner: Soul Hackers – Atlus – $14.99 ($29.99)
Until December 8th
Disney's Planes – Disney Interactive – $9.99 ($19.99)
Until December 25th
AiRace Xeno – QubicGames – $1.69 ($2.49)

3DS Retail Downloads
WRC FIA World Rally Championship: The Official Game – Bigben Interactive – €34.99 / £29.99
Riding Star 3D – Treva Entertainment – €29.99 / £24.99
3DS Virtual Console
S.C.A.T. (NES) – Natsume – €4.99 / £3.49
Shadow of the Ninja (NES) – Natsume – €4.99 / £3.49
3DS DLC
Shin Megami Tensei IV – Atlus:
Radiant Equipment – €0.99 / £0.75
For the Past… For the Future – €1.99 / £1.59
Persona Q: Shadow of the Labyrinth – Atlus:
Sub-Persona: Thanatos – €1.99 / £1.79
Sub-Persona: Magatsu-Izanagi – €1.99 / £1.79
Sub-Persona: Orpheus Telos – Free
3DS eShop Temporary Discounts
Until December 11th
Disney Epic Mickey: Power of Illusion – Disney – €9.99 / £8.99 (€19.99 / £17.99)
Until December 18th
Shin Megami Tensei: Devil Survivor Overclocked – Ghostlight – €11.99 / £9.99 (€34.99 / £29.99)
Crash City Mayhem – Ghostlight – €7.99 / £6.99 (€19.99 / £17.99)
3DS Home Theme
A Merry Mario Holiday – Nintendo – €1.99 / £1.79
Animal Crossing: New Leaf Jingle's Toy Day – Nintendo – €1.99 / £1.79
Amy Rose Theme – SEGA – €1.99 / £1.79
Chao Theme – SEGA – €1.99 / £1.79
Sonic the Hedgehog – SEGA – €1.99 / £1.79
Shadow the Hedgehog – SEGA – €1.99 / £1.79
3DS Free Demo
Urban Trial Freestyle – Tate Media