If you are looking to purchase a Nintendo 3DS and you're looking for the cheapest one that you can find, you might want to consider buying a refurbished 3DS unit straight from Nintendo. These used Nintendo 3DS gaming handhelds all cost $129.99 US, and they come with a one year warranty. That's the same warranty the company offers for new 3DS purchases. Therefore, if something goes wrong with the 3DS Nintendo sold to you, you can always ask for it to be repaired.
List of 3DS Units Available From The US Nintendo Online Store :
Aqua Blue Nintendo 3DS

Midnight Purple Nintendo 3DS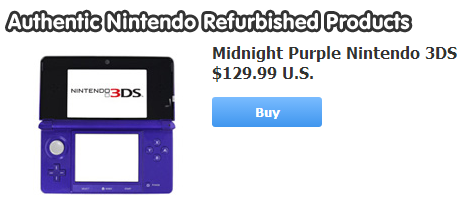 ( Screenshot of Nintendo's online store selling refurbished 3DS units )
All refurbished 3DS gaming handhelds sold at the Nintendo Online Store are guaranteed to work, according to Nintendo. However, there might be minor cosmetic blemishes with some devices. Every purchase will include the 3DS, its AC adapter, rechargeable battery (pre-installed in the system), the device's stylus, a 2GB SD card, a charging cradle, AR card pack, a quick starter guide, and a manual.
Like I said before, both 3DS gaming handhelds are priced at $129.99 each, and Nintendo is even bundling the device with The Legend of Zelda: Ocarina of Time 3D (optional) for an additional price of $39.99. Of course, you can always find a cheaper 3DS game at retail (for example, used 3DS games). There is also a limit of one 3DS purchase for each customer.